A radical shift from physical invoices to paperless shipping!
In this article, we will discuss one of the most important features of using the WooCommerce UPS Shipping Plugin with Print Label, which is, printing shipping labels. Read below to know more about it.
Customs clearance is one of the biggest hindrances to smooth international shipping. Sometimes, shipping containers have to be warehoused due to the lengthy process of customs clearance. A single problem that causes a delay in clearance can result in huge shipping charges.
Some of the common problems faced by shippers in customs are :
1. Inadequately filled export documents
2. Incorrect/missing duties and taxes
3. Wrong classification of shipments
These kinds of problems usually occur due to miscommunication and manual filling of documents.
How can these problems be overcome?
UPS has made a radical shift in its approach to handling international shipments by introducing Paperless Invoices. According to UPS, "UPS Paperless™ Invoice is an industry first that promotes sustainability and eliminates the need for paper commercial invoices by integrating order and shipment processing, and transmitting commercial invoice data to enable clearance by customs offices across the globe."
Now, shippers like you and me can use this feature in WooCommerce using the UPS shipping plugin.
I installed the plugin and made an order for a toy car to London (United Kingdom) as shown :

As soon as I created a shipment using the plugin, the invoice details were sent to UPS. That means I do not need to print the commercial invoice and other documents separately. All the details have already been sent to UPS and I just need to be present with the usual shipment information. All customs documentation is covered in the Paperless feature.
So, the problem of incorrectly filling export documents cannot arise in this case as they are automatically picked from the shipment details in the plugin. Also, if the product description and other details are filled in correctly, the probability of the wrong classification can be practically nil.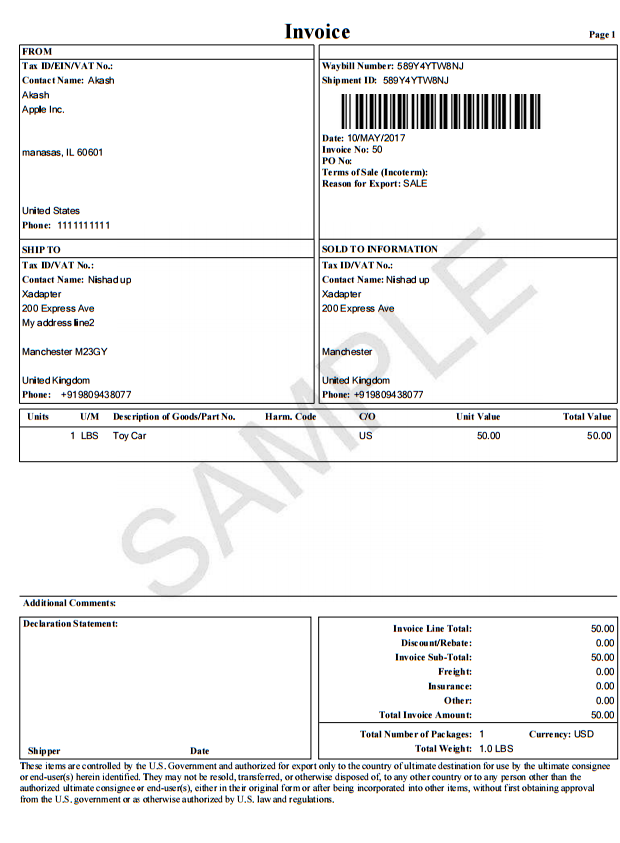 For simplicity, and to validate the details sent to UPS, the plugin offers a sample commercial invoice on the order page so that customers can relate to the details for which they would be inquired. Here is the invoice:

So we can see how easy it is for the new companies coming up these days who plan to ship internationally. Paperless shipping has completely redefined the landscape of going international.