Online Tour Booking — Set up using WooCommerce Bookings Plugin
In this guide, we will tell you how you can set up Tour booking using WooCommerce Bookings plugin and take a real-life example to help you understand how it's done.
The Business Case:
Carolyn runs a couple of tours every day—'Las Vegas Tour' and 'Grand Canyon Tour'. Her challenge is that she's only the tour instructor and can only serve one tour at a time. So, for instance, if the 'Las Vegas Tour' tour is booked on July 25th, 'Grand Canyon Tour' cannot be booked or shouldn't be available for booking on July 25th. So on and so forth.
Step1: Create two bookable products "Las Vegas Tour" and "Grand Canyon Tour" with a fixed block of 1 day.
Step 2: Create an asset "Carolyn" and assign the quantity as 1 as Caroline is the only instructor for all the tours.
Step 3: Assign the asset "Caroline" automatically to both the tours "Las Vegas Tour" and "Grand Canyon Tour" such that if one tour gets booked, the other will not be bookable anymore.
Step 4: Using the "Bookings Participants" functionality, provide customers with additional options like SkyWalk upgrade and Heliflight upgrade and the option to choose how many tickets they want for each one of them.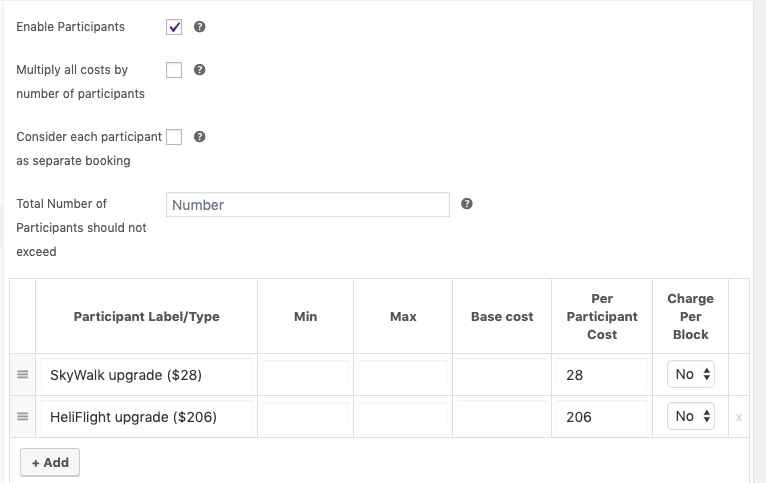 Step 5: Voila! Now she has successfully set up her online tour booking as per her business case.
For example, if a customer books for "Grand Canyon" tour on July 25th, "Las Vegas Tour" will no more be bookable on July 25th as illustrated in the screenshots below:
Booking Cost for Grand Canyon tour is: $50 (for each tour) + $28 * 2 tickets = $106. From the screenshot below, we could also see that the Las Vegas tour is now blocked out for July 25th.
Conclusion
There you go! That's how easy to set up an online tour booking using WooCommerce Bookings Plugin from PluginHive. You can learn more about the plugin features on the product page.
If you have any doubts or need help setting up Bookings on your WooCommerce-based website then feel free to Contact PluginHive Customer Support. Our support team should be able to help you out.