Make it Easy for your Customers to Track the Package and Process Returns using WooCommerce UPS Shipping plugin
In this article, we will be covering WooCommerce UPS Shipping Plugin and how using this plugin, store owners can provide their customers the ability to track their packages as well as the return shipment label.
WooCommerce store owners have a ton of shipping solutions that make their life easier when it comes to shipping their products. However, when it comes to a fully advanced shipping solution, there are some things that must be there. These include the ability to track their packages and the ability to generate return shipping labels.
According to Vince,"…I have a few technical questions about the capabilities of this plugin. Regarding Return labels
– Can this plugin generate a return label with each order?
– Can it be configured to include a return label with every order?
Regarding Shipment Tracking
– Does this plugin store the tracking numbers under the WC order # in the WP database?
– Does it store both the outgoing AND return tracking numbers when they are generated?
Thanks in advance…"
Sending Tracking Number to customers
WooCommerce UPS Shipping plugin is one of the few shipping solutions that support out of the box Shipment Tracking options. However, one of the best features is the ability to send the tracking details to the customers with the Order Completion Email. This way the store owners can easily provide the customers a way to track their shipments and to know the whereabouts of the shipment. The image below shows the plugin setting for enabling email notifications for the customers. Using this option the plugin will send the tracking details inside the Order Completion Email.

Generating Return Labels and sending it to the Customers
When it comes to repairs and service, there is no better way to return the shipment back to the store owners. However, WooCommerce UPS Shipping plugin allows the store owners to send the return shipping label to the customers. This way the store owners can bear the cost of return shipment and allow their customers to get the shipping label without any hassle. The below image shows the option on the orders page to create and include the return shipment using the plugin.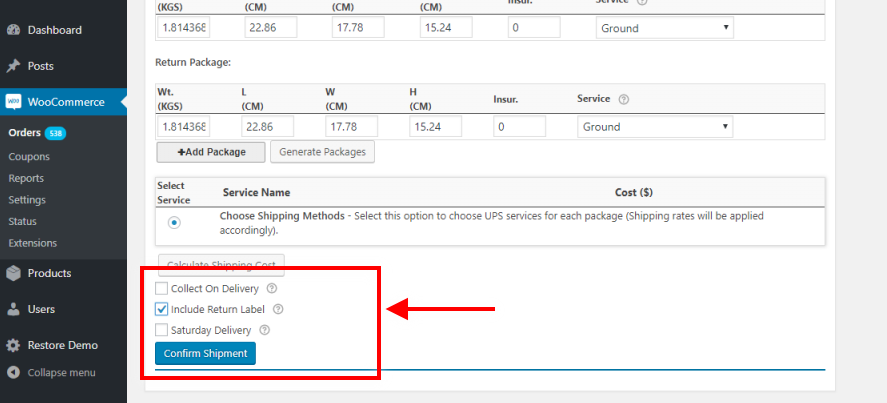 Summary…
So in this article, we discussed the WooCommerce UPS Shipping plugin and how using the plugin, store owners can provide customers with features like shipment tracking and automatic return shipping label. This way it will be more convenient for the customers to get more details about the order as well as they won't have to worry about the return shipments.
---
If you have any suggestion regarding the article, feel free to share your views in the comment section below. We have also attached some details about the plugin that we had discussed in this article.
About the plugin
WooCommerce UPS Shipping plugin
Get real-time accurate UPS Shipping rates
Add extra handling charges to the shipping cost
Provide discounts on shipping cost
Generate shipping labels
Track your UPS Shipments
Premium Version Cost – $69