Packing a Product that Ships in Two Boxes using UPS Box Packing
One of our customers came up with an interesting business case that had been bothering her for quite some time. Our customer, Jayne has an online store where she was facing the following issue.
According to Jayne:
Hello! We sell Vials (ex. 1000 seals per package) and they ship in two boxes. We know the box sizes(16″x13″x13″ each) and the weights(21+21 lbs) with the items packed. What would be the best way to set-up the plugin? I've been doing trial and errors for a few days now, my biggest hurdle is having one product that ships in two boxes. Much help appreciated.

Thank you!
Looking at Jayne's issue, it can clearly be said that a lot of WooCommerce store owners face the same issue. Now let's see how Jayne's problem can be solved.
---
Creating Two Products
Considering the fact that the product (Vials) contains 1000 units to be packed in two boxes, one of the smartest things to do would be to consider it as two products. Or at least two packages of the same product.
Jayne can simplify the whole issue by splitting the product into two equal parts, i.e. 500 units of vials, packed in a single box.
By doing so she can easily divide the two packages into two separate product entities.
---
Creating a Custom UPS Box
Since the issue regarding the quantity is solved, now let's prepare product packaging. As we know the package dimensions as well as the weight, creating a custom UPS box won't be that difficult. But first, she needs to select the appropriate UPS Parcel Packing method.

Now we can create a custom box with the given dimensions. The image below shows how Jayne can easily create a custom UPS box using the UPS Shipping plugin.
So based on the dimensions and weight limits, Jayne can create a box like this. But creating a box like this means the box will only contain one package of 500 vials. And to ship 1000 vials two such boxes will be selected for shipping.
But if Jayne wants, she can even create a bigger box that will accommodate both packages in one go. Take a look at the image below. It shows another box with larger dimensions and a weight limit.

Hence based on her preference, she can now pack the product either in one bigger box or two smaller boxes.
Here are the images of the order being placed using both the smaller and bigger box.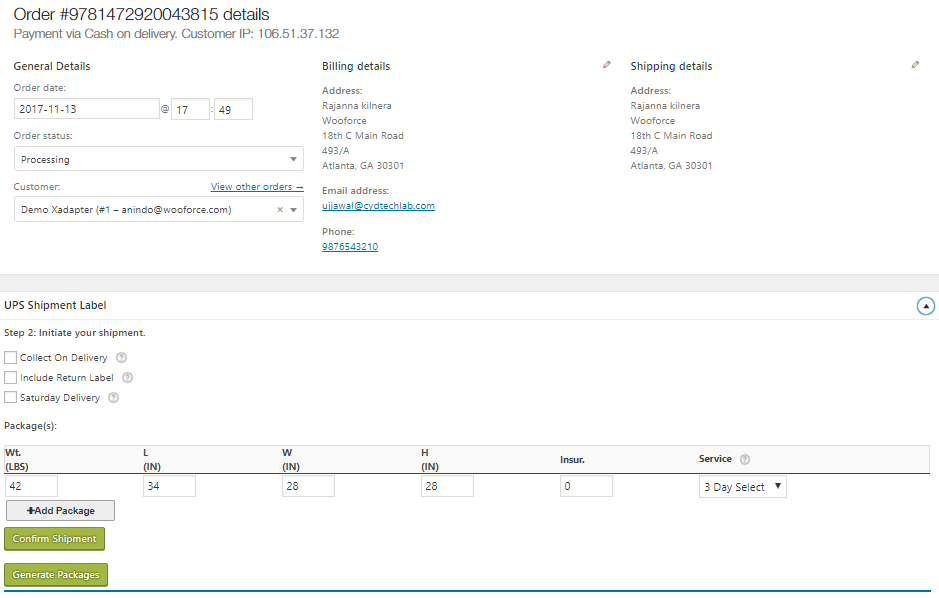 So this way Jayne can configure the UPS boxes to ship a package in either one box or in two separate boxes, based on the weight and dimensions of the product.