Installation and Activation of Shopify Australia Post App
This guide explains how to download, install and activate Shopify Australia Post App to get real-time shipping rates, print labels, and enable tracking on your Shopify store. To know more about the advantages and other features of this app, kindly visit the Shopify Australia Post App page.
Prerequisites
Before you start setting up the Shopify Australia Post App, you need to have an account with Australia Post. If you don't have an Australia Post account yet, you'd have to register with Australia Post and get the credentials. Check out 'How to get Australia Post account and API credentials?' if you find difficulty in getting the Australia Post credentials for the first time.
Once your Australia Post account is ready, you would require the following information/credentials while setting up the App.
Account Number
API Key
API Password
---
How to Add, Install, and Activate the Shopify Australia Post App?
The first and foremost step is to find the App and install it on your Shopify store. Follow the steps below for that:
Adding the App to Your Shopify Store
Go to the Shopify Settings and then

Apps and sales channels

section and click on

Shopify App Store

as shown:
---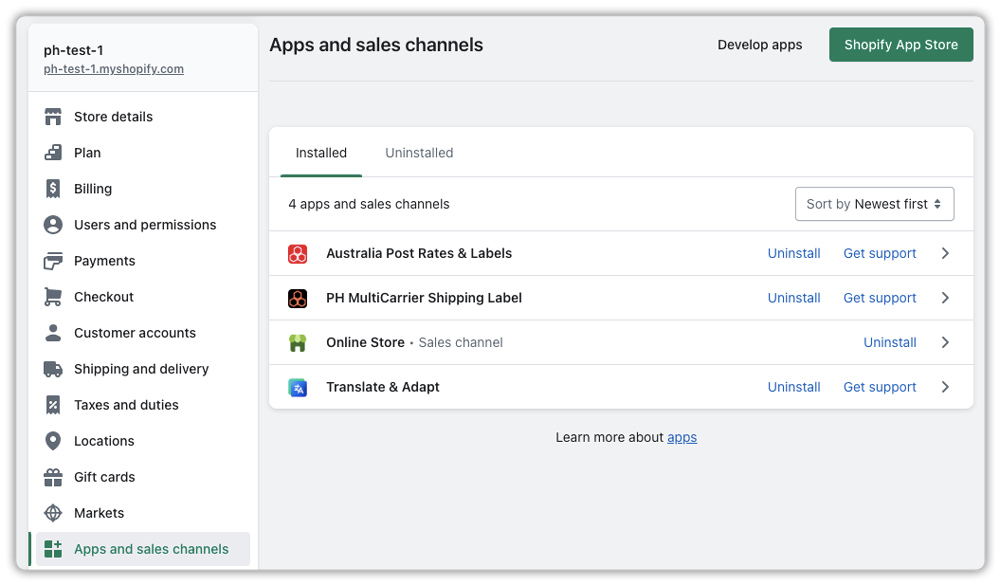 ---
When you're in the Shopify App Store, you need to search for

Australia Post Rates and Labels
---

---
Click on the Australia Post Rates & Labels and then on the Add app button to add it to your Shopify Store

:
---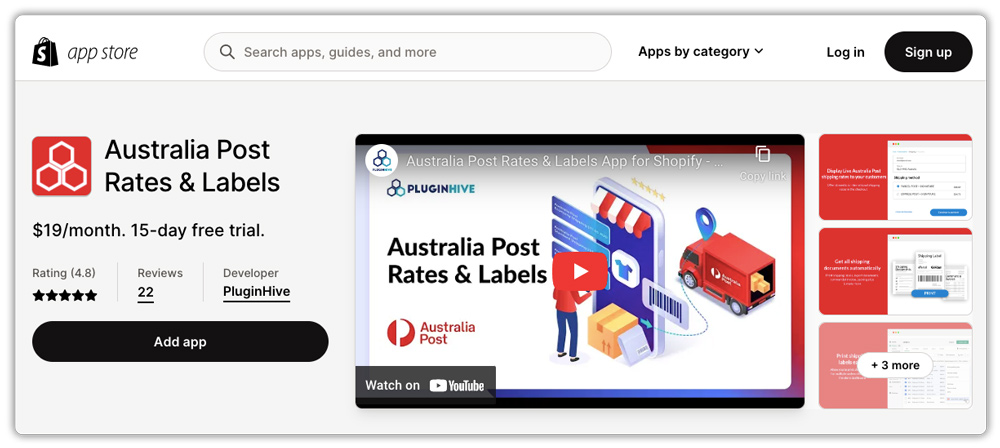 ---
Installing the Shopify Australia Post App
Once you've added the App to your Shopify store, the setup wizard with guide you to the Installation page where you need to click on Install app.
---
---
Activating Shopify Australia Post App
After adding and installing the App, the next step is to activate the App in order to use it. Follow the following steps required to activate the Australia Post App on your store.
You will be redirected to the

Approve Subscription

page after a successful installation. Click on

Approve.
---
---
Following the Approve charge page, you will be taken to the App Installation page. Fill it up with your Email, Phone Number and check the "I agree with the Terms and conditions and Privacy policy". Once all the details are filled, click on Get Started:
---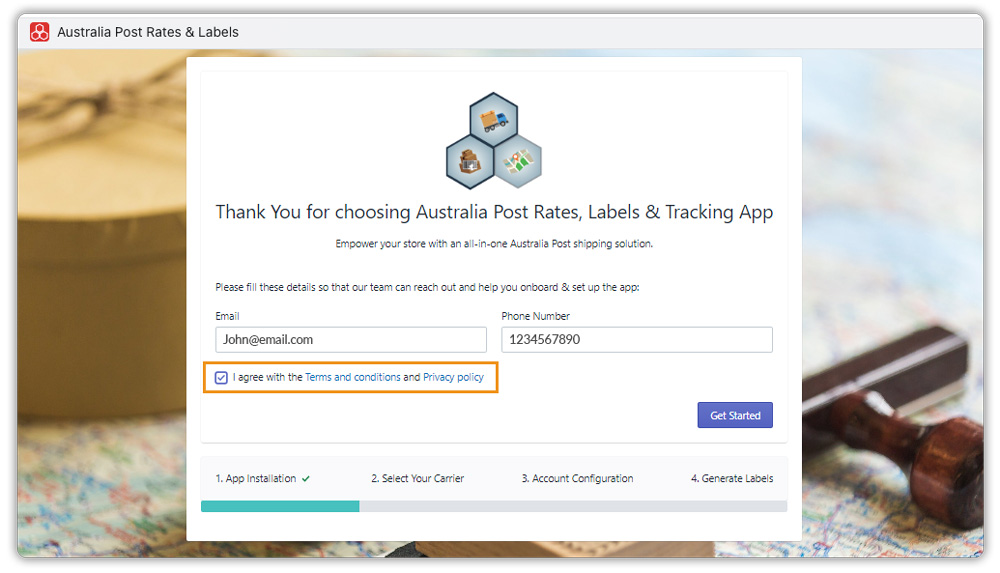 ---
In next step, select your carrier between Australia Post & MyPost Business based on your preference:
---
---
Now

you need to

configure your Australia Post Account Number, API Key, and API Password and click on Save:


Note: Ensure enabling "This is an Australia Post Production Key"
---
---
Lastly

, click on

Finish to successfully complete your Australia Post account setup:
---
---
There you have it! The Shopify Australia Post App by PluginHive is activated on your Shopify store. You can manage orders, display real-time rates, print labels in bulk and send tracking details to your customers.
Need more help?
We hope this guide would have helped you add, install and activate the Shopify Australia Post App. In case you're facing any issues or have any questions regarding the installation and activation, Contact PluginHive Customer Support. Our team will help you resolve any issues.