Set up WooCommerce Freight Shipping with UPS
With this article, we'll show you how to set up WooCommerce Freight Shipping and use UPS Freight shipping services for the final delivery. So read along to know more.
WooCommerce Freight Shipping
Most WooCommerce store owners are hesitant to deliver freight shipments because they believe the process is complex. However, that's not entirely true and the process is rather simple.
With the help of the right WooCommerce shipping plugin, you should be able to set up WooCommerce freight shipping in no time. For that, you would require a shipping service, and an account that lets you ship freight shipments.
Let's take an example to see how you can set up freight shipping using UPS shipping services.
According to Michael, a WooCommerce store owner,
We are currently shipping via UPS. Most of our products are not that heavy so things are going smooth. However, we have been planning to ship heavier products for some time now. We will be dealing with products weighing 220 lbs.
I wanted to confirm whether the WooCommerce UPS Shipping plugin will be able to handle the freight shipping and tariffs? Appreciate your help!
---
Setting up WooCommerce Freight Shipping using the WooCommerce UPS Shipping plugin
WooCommerce Freight Shipping is used typically for shipping products where the package size exceeds 150 lbs. In this case, since the store owner will be handling shipping for products weighing 220 lbs, it will be considered for UPS Freight Shipping.
The WooCommerce UPS Shipping plugin helps store owners to get the real-time accurate shipping rates for shipments across the world. Using the plugin WooCommerce store owners can easily take care of the freight shipments. They just need to enable the Freight Services option in the plugin settings.
The image below will show the option to enable the services in the plugin settings.
---

---
Once you have enabled this option and saved the settings, the following UPS Freight shipping services will be automatically enabled.
---

---
Once you're done with the setup, you should be able to see the shipping rates on the Cart/checkout page. Here's what the cart page looks like.
---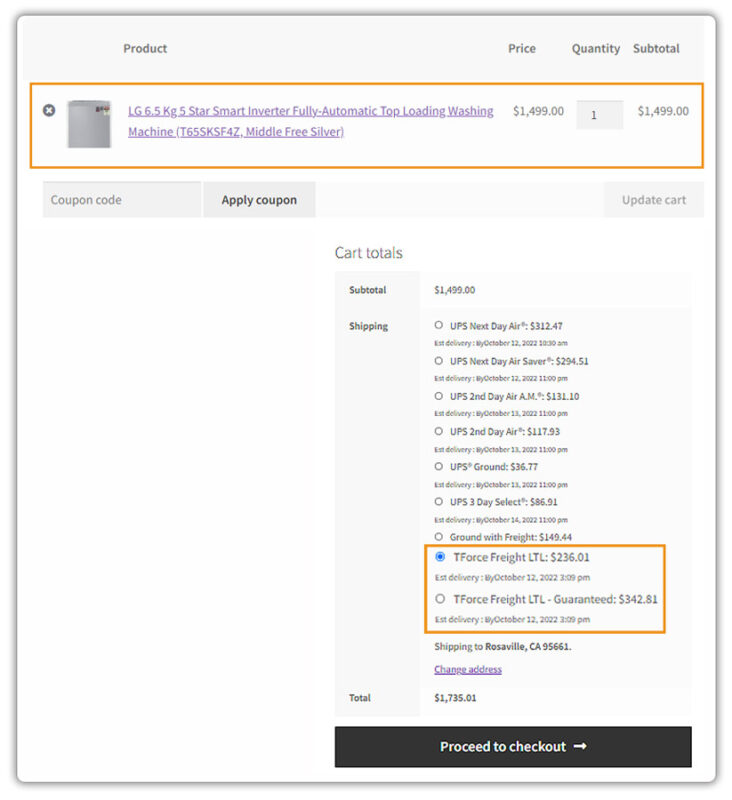 ---
You can select the services for your shipment on the orders page:
---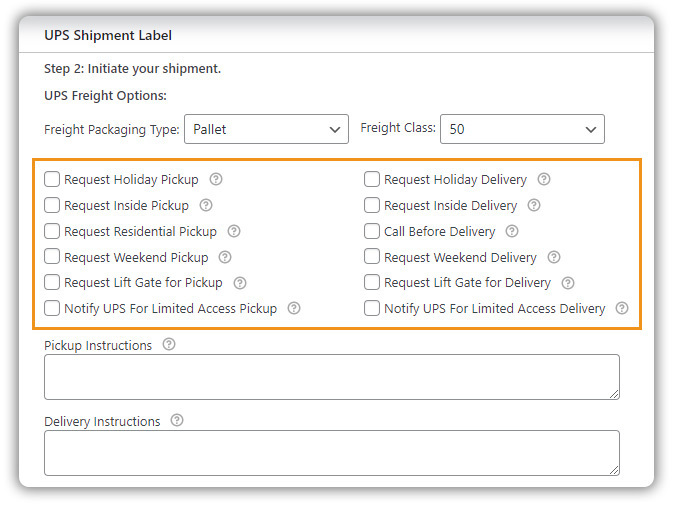 ---
Your Freight Shipment label is generated as follows
---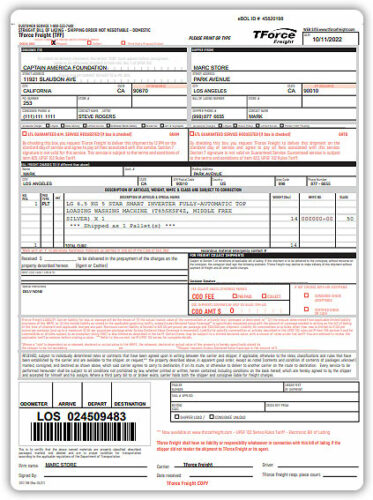 ---
Other Freight Options include: 
---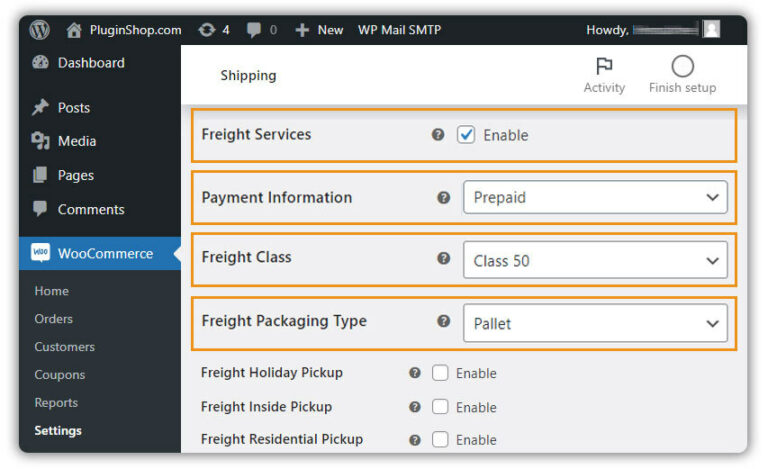 ---
Payment Information: Choose the right billing option for your products. Prepaid and Bill to Third-party are the options available.

Prepaid – With this option, charges will be billed to the sender.
Bill to a third party – With this option, the specified charges will be billed to someone other than the sender. In order to choose this billing option, the third party's valid account number must be entered in the Third Party Account Number text box.

Freight Class: Freight class is a standardized way of classifying less-than-container load freight shipments based on certain characteristics. For ocean shipping, cargo freight class is determined based on various factors, including value, weight, length, density, and more. You can categorize your products from Class 50 to Class 500
Freight Packaging Type: Assign the type of packaging required for the product shipment. 
---
Summary
So in this article, we discussed the WooCommerce UPS Shipping plugin and how WooCommerce store owners can easily handle the shipping as well as the shipping rates in case of products weighing more than 150 lbs.
WooCommerce UPS Shipping plugin provides store owners an option to ship heavyweight products under UPS Freight. This way they can ship heavy products across the globe more easily.
---
If you have any suggestions regarding the article, feel free to share your views in the comment section below. You can also Contact PluginHive Customers Support if you need help setting up UPS shipping services on your WooCommerce store.
Happy selling!