When I try to create a label for my orders, error message I get: FedEx Create Shipment Error: Severity: ERROR
In this guide, we will tell you how to solve the Error message, "FedEx Create Shipment Error: Severity: ERROR" when using the WooCommerce Shipping Plugin for FedEx. Read along to know more.
It's really easy to generate and print FedEx shipping labels from your WooCommerce store. FedEx Shipping label provides key information to FedEx agents at every checkpoint when moving a package from your warehouse to your customer's doorsteps. However, there are cases when you may not be able to do so.
When do you get this error?
This plugin interacts with FedEx APIs to generate the shipping labels. So if you send a wrong shipment generation request then the plugin won't be able to provide you with a valid shipping label.
For instance, if you have entered an invalid country code in the plugin settings, then you can neither display shipping rates nor print shipping labels. Another example is when you select the C.O.D option when printing shipping labels for FedEx Ground. That is because FedEx Ground does not support C.O.D.
A real-life example
To better understand this error, you should go through the following conversation between one of our customers and our support team.
Customer:
The WooCommerce shipping plugin for FedEx was working fine until now. When I try to create a shipping label for my orders, I get the following error message:
FedEx Create Shipment Error: Severity: ERROR
Source: ship
Code: 3001
Message: Invalid Shipper Country Code
LocalizedMessage: Invalid Shipper Country Code
Any idea how to fix this? Happens with all of my new orders.
PluginHive Support:
Thanks for reaching out to us. Please do the following checks and let me know:
– Check the origin country in the plugin settings page.
– Check the field "Ship From Address Preference" in FedEx plugin settings. If it's set to 'Shipping Address' then please change it to 'Origin Address' and check again.
– Lastly, please ensure you have provided the correct 'Origin Postcode' in plugin settings.
Customer:
I can see the origin postcode field, but I don't have an origin country field on my settings page. Ship from address preference is set to Origin address. Origin Postcode is also set correctly. Please refer to the attached screenshot.
PluginHive Support:
Thanks for the screenshot. As you might already know, WooCommerce has a default feature of setting base location. People use it to set their store address and can be found here, WooCommerce→Settings→General.
We just checked your settings and found that the base location is set as Åland island. Which is probably not correct and so we have set it as Hungary. We request you to kindly make sure you've entered the correct State code. Also, please don't leave the Shipper Street Address field empty.
We entered some part of your address in Address line 2 and state code as VE for testing purposes. We are able to print the label, in order 123.
Can you print FedEx shipping labels in Shopify?
Yes, you can!
With the help of Shopify FedEx App, you can generate and print the shipping labels directly from your Shopify store. The App allows you to show live FedEx shipping estimate, print shipping label, schedule FedEx pickup and much more. You can know about this App on Shopify FedEx page.
Coming to back to the point, you can print shipping labels in various different sizes and image types. For instance, to let the App download the FedEx shipping labels in ZPLII format, you will have to define it under the App Settings.
As you can see, you can choose the Label Size as well as the Image type (in this case, ZPLII). This way you don't have to always change the format. And once you click on the Auto-Generate Label option, the shipping labels would be generated automatically.
Once you do that, you should be able to print the shipping labels. Please mind that the shipping labels would be downloaded based on the type of image format you've selected. Here's a sample FedEx shipping label generated in PNG format.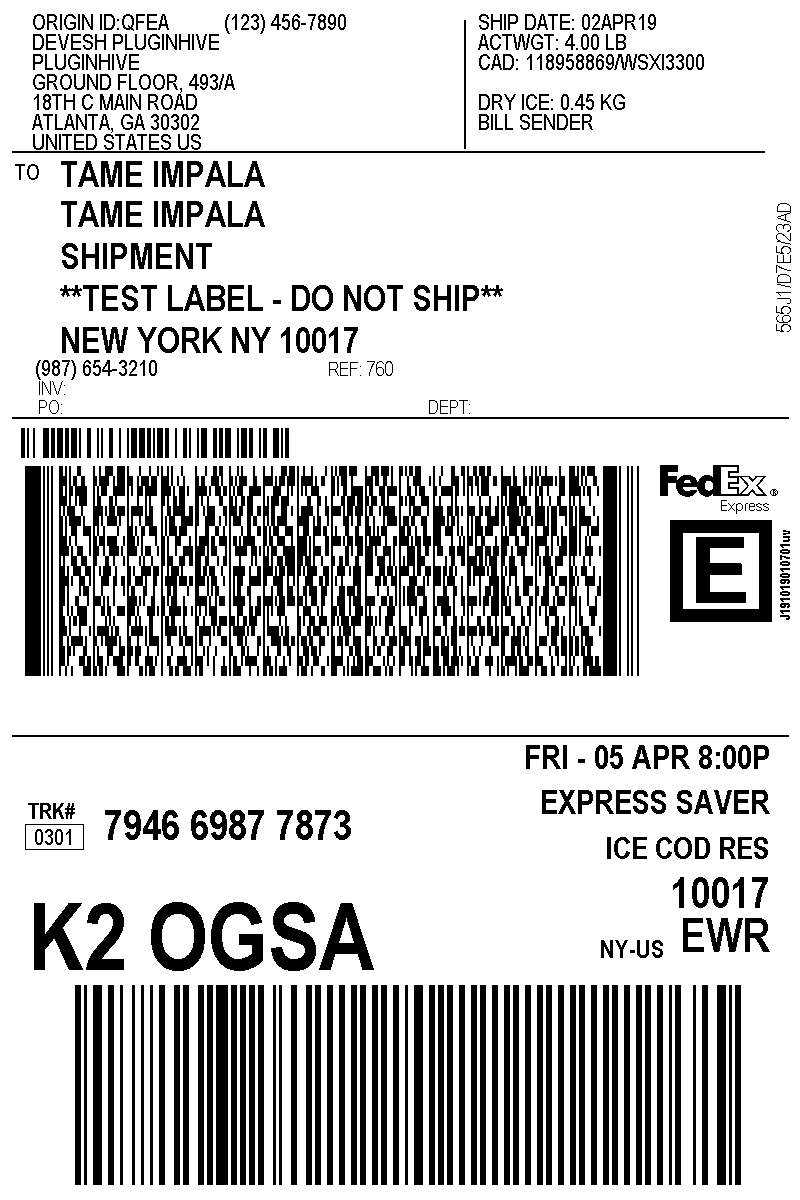 To know more about the Shopify FedEx App, check out its product page. You have many amazing features like the real-time FedEx shipping estimate, bulk label generation, FedEx shipment tracking, and much more!
Conclusion
In this article, we showed you how you can rectify the Error message, "FedEx Create Shipment Error: Severity: ERROR" when using the WooCommerce Shipping plugin for FedEx. We also showed you how the Shopify FedEx App helps store owners like you print shipping labels directly from the Shopify store.
We hope this guide would have helped you. If you have any query regarding this App then feel free to contact our customer support. They should be able to help you out.
Happy selling!