Take WooCommerce Bookings Deposit for your Rentals

With this guide, we'll show you how to take WooCommerce bookings deposit for your rentals and reservations using the WooCommerce Bookings and Appointments plugin.
---
What is WooCommerce Bookings Deposit?
When booking a rented vehicle or hotel room, you may want to ask an advance deposit from your clients or guests. The purpose of taking advance WooCommerce bookings deposit is to guarantee a booking. This practice is becoming more and more commonplace. It's especially popular among businesses like hotels, car rentals, and other similar projects.
The amount is usually taken via online payments and takes a simple approach where a small part of the total amount is taken beforehand. The outstanding amount can be paid later once the customer has completed his or her booking.
Let's have a look at the plugins that are necessary to set up the above booking system on your website.
---
WooCommerce Bookings and Appointments plugin
The WooCommerce Bookings and Appointments plugin by PluginHive is a brilliant plugin that delivers an outstanding booking experience to you and your customers. It offers extensive features that could help you achieve the necessary business requirements.
---
WooCommerce Deposits plugin
---
PH WooCommerce Deposits plugin by PluginHive
A perfect solution for WooCommerce store owners who are looking to provide a fixed deposit or a percentage of the total cost as a deposit, for the customers.
The plugin allows full control over the payment by forcing deposits or providing customers a choice between the deposit or full payment. You can also create your own payment plans and schedule the payment over a period of days, weeks or months.
For more details, visit –
PH WooCommerce Deposits plugin
---
Security Deposit for Rentals
If you are a WooCommerce store owner who requires customers to pay a security deposit upfront while renting equipment, WooCommerce Deposits by Webtomizer Labs is another WordPress and WooCommerce plugin that handles security deposit for your products.
Using this plugin your customers can pay a fixed amount or a percentage upfront and then pay the remaining amount later.
Now that you're familiar with the plugins, let's take a real business case and see how you can set up a WooCommerce bookings deposit on your website.
---
Bike Rental with Security Deposit on a WooCommerce Store
Sam runs a business and owns a WooCommerce website where he wants to provide bikes/motorcycles for rent. He wants his customers to reserve and pay a partial booking amount in advance. Here's the proposed process.
Select the booking duration and add the required number of bikes to the cart.
Collect a refundable deposit of $125 on a successful return of the bike(s) in satisfactory condition.
Checkout and pay for the hired bike(s) using PayPal or Credit card.
---
Solution using the WooCommerce Bookings plugin
Once you've installed both the plugins on your WooCommerce, it's quite easy to set up the deposit rules for your bookings. Here are the necessary steps required to achieve that for the above business case.
Step 1: Create a bookable product with the help of the WooCommerce Bookings and Appointments plugin. For this example, we are going to define a product called 'Bike Rental'.
We'll set up the booking based on 'per hour' and thus, the prices will be calculated accordingly.
---

---
Step 2: Under the Edit product page, you should be able to find the 'Deposit' tab. This dedicated tab is given by the plugin and you can use it to set up deposit rules for your WooCommerce products. In this case, we've defined the deposit amount of $150, as shown below.
---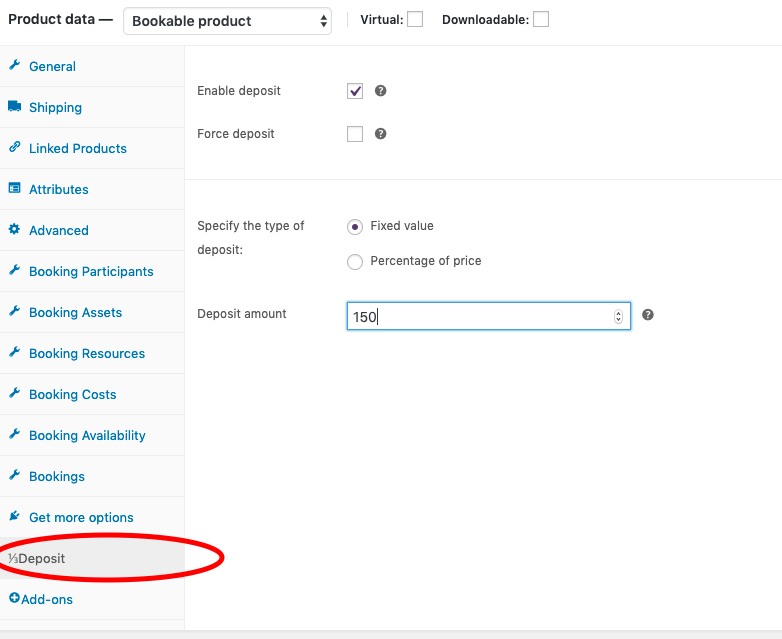 ---
Step 3: And that's all you need to do in terms of setting up WooCommerce bookings deposit. To see how this entire thing works out, let's take the example shown below.
In the image below, customers can book the bike for the desired timeframe and pay the final expense at the checkout. You can also see the amount deposit amount right below the calendar.
---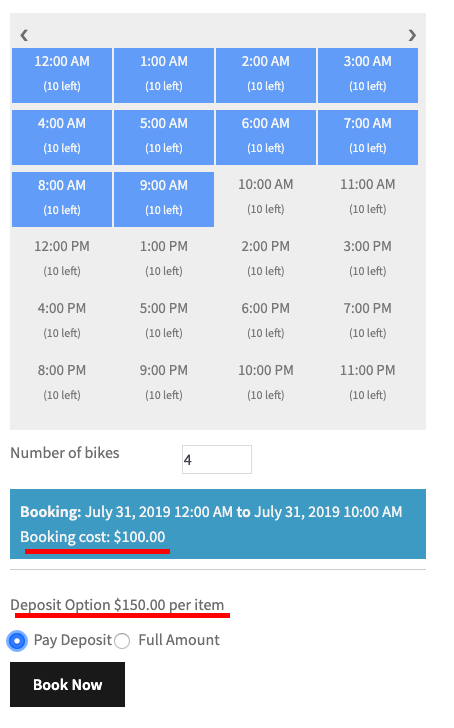 ---
Clients also have the option of paying either the deposit amount or the full amount. This is possible because of the WooCommerce Deposit plugin.
---
Conclusion
There you go! That's how easy to set up WooCommerce Bookings Deposit for a bike rental website using the WooCommerce Bookings plugin from PluginHive and WooCommerce Deposits by Webtomizer Labs.
If you are facing a problem when setting up bookings on your WooCommerce website then feel free to contact PluginHive Support. Our support team should be able to help you do that.
Good luck! 🙂