Take Security Deposit for your Rentals with WooCommerce Bookings Plugin
In this guide, 

you'll learn how to 

combine WooCommerce bookings with the best strategy to rent expensive products by accepting a refundable security deposit. 

We will use WooCommerce Booking and Appointments plugin along with WooCommerce Security Deposits plugin to achieve that.
While trying to figure out a suitable strategy for your expensive products, you might have come across the concept of security deposits. Security Deposit is a mode of payment where you accept a refundable deposit based on your business strategy.
Online Booking is another industry which can benefit greatly from the security deposit. The fact that you can let your customers pay for the security deposit, at the time of renting your expensive product, and then refund the deposit amount once the product is returned, is of a huge benefit to the store owners.
In a WooCommerce environment where we have WooCommerce Bookings and Appointments plugin to deliver outstanding booking experience to you and your customers, what you require extra is a way to take a security deposit for your WooCommerce bookings.
WooCommerce Deposits by Webtomizer Labs is a WordPress and WooCommerce plugin that handles security deposit for your products. Using this plugin your customers can pay a fixed amount or a percentage up front and then pay the remaining amount later.
Business Case:
Sam has set up a WooCommerce store where he wants to provide his bike for rental. Below is his business case:
Now you can reserve and pay for your bike hire in advance. Simply select the duration and the date you require and add the required number of bikes to your cart. Checkout and pay for the bike hire using Paypal or credit card.
A deposit of $125 on a Credit/Debit Card, which is refundable on return of the cycle in satisfactory condition.
Solution:
Step 1: Create a bookable product "Bike Rental" for every 1 hour as per Sam's business case.

Step 2: Install the plugin "WooCommerce Deposits by Webtomizer Labs" and within the product "Bike Rental" settings page, we need to enable the Deposit option available under the Deposit tab.
Provide a deposit amount of $150 as per Sam's business case.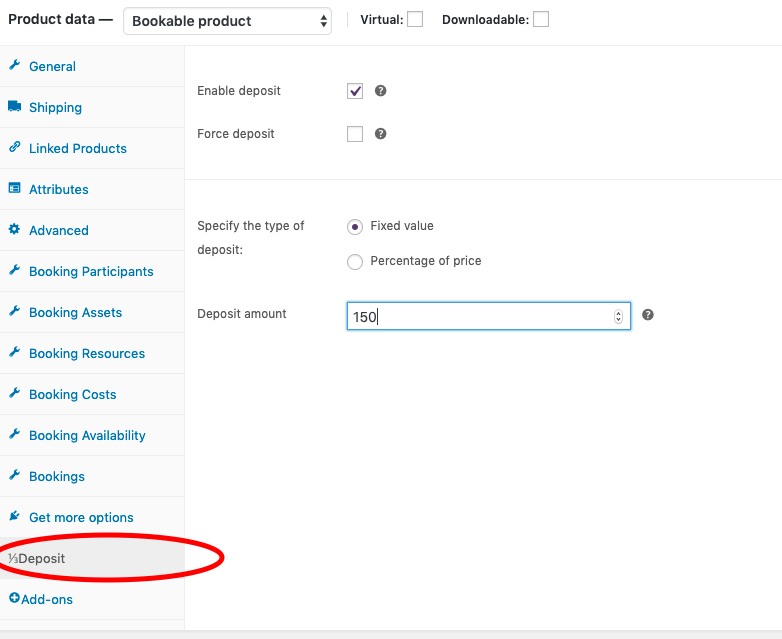 Step 3: Voila! Now, Sam's customer will now be provided with an option to pay for the security deposit or the full amount at the time of booking.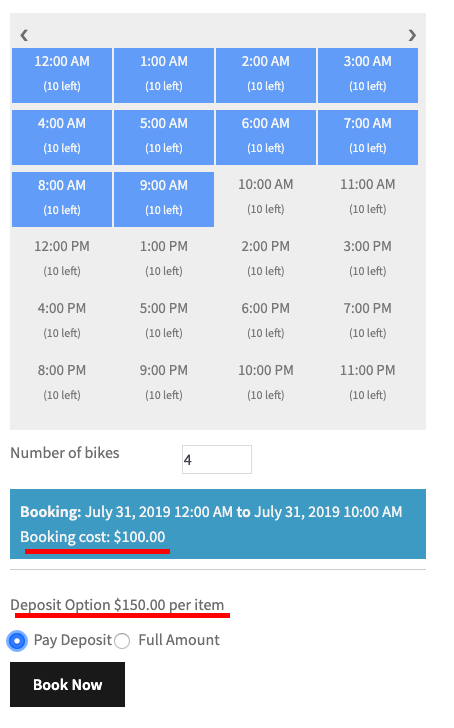 Conclusion:
There you go! That's how easy to set up a security deposit for a bike rental using WooCommerce Bookings plugin from PluginHive.
If you have any doubts or need help setting up Bookings on your WooCommerce-based website then feel free to Contact PluginHive Customer Support. Our support team should be able to help you out.