Send Prepaid FedEx Shipping Labels to Customers in WooCommerce
There are times when WooCommerce store owners have very specific demands and expectations, especially in shipping. In such a case, it's better to grab on to a simple solution rather than building a completely new solution.
Let's take an example. Assume you want to share the FedEx Shipping label with your customer instantly after generating it. Rather than downloading the shipping label and attaching it to an email, you could use a special feature in WooCommerce Shipping Plugin for FedEx with Print Label, which would do it for you.
In this guide, you will see how using WooCommerce Shipping Plugin for FedEx with Print Label plugin could help you send shipping labels to your customer with the source address set as customer's address. To begin with, we will take a business case.
A real-life business case
According to William (a WooCommerce store owner),
"Hi, We want to use WooCommerce Shipping Plugin for FedEx with Print Label so our customers can get a label quicker. We sell service this is why we want our customer to get a prepaid label so they can send their units for service (repair) to us. My main source of income is service. How much more will it cost me? I want to make it easy for everyone. No more waiting…
I would like to send a label instantly. For example, if a customer purchased 6 units for service just a single label should be sent via Email. I don't want to receive a label because we may not be able to repair all units. We may return 5 units out of 6. SO NO LABEL FOR ME. ONLY FOR CUSTOMERS. When a unit arrived at my address a signature should be required at all times. I would like to receive a tracking number or a simple notification. So when a customer calls, I can update or maybe help to file a claim on FedEx."
Let's see how the WooCommerce Shipping plugin for FedEx with Print Label would help him in this case.
Sending shipping label to customers in WooCommerce
WooCommerce Shipping plugin for FedEx with Print Label allows store owners to print shipping label them and send it to their customers. However, in cases like the above, WooCommerce store owners need to change the settings a bit to get the perfect results.
In William's case, since he requires the shipping label to be generated for the customer's use only, the first step is to change the Ship From Address in the plugin settings. The image below shows the here you can change the Ship From Address as Shipping Address.

This way the label will be generated from the customer's address. Also, since he requires the shipping label to be sent via Email to the customer, along with the tracking number, he needs to set up the plugins for email notifications. The following image shows the option which you need to enable to get the email notification.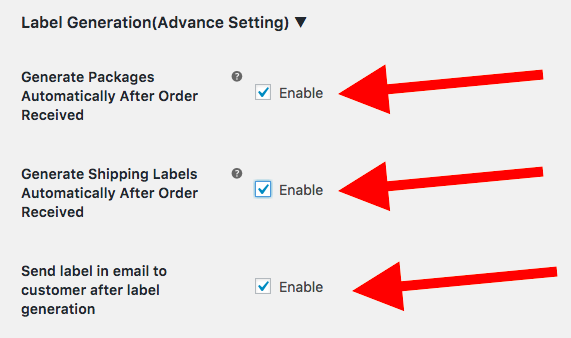 Once you enable these settings, as soon as the shipping label is generated, it will be sent to the customers via email.
Final thoughts
As you saw, it's pretty easy to automatically send the FedEx Shipping labels to your customers. And you also saw how WooCommerce Shipping Plugin for FedEx with Print Label does it. This feature really helps in business cases where a customer has to send products back for repairs and service.
But what about Shopify users? Could they also print FedEx shipping labels right off their online stores? Well, yes! With the help of Shopify Ship, Rate and Track for FedEx, you can print the shipping labels as well as the Return FedEx shipping labels.
If you have any suggestion regarding the article, feel free to share your views in the comment section below. You can also contact our customer support if you have any query regarding this guide.