Insure your products under UPS Insurance Policy, using WooCommerce UPS Shipping plugin
This article will help online store owners understand the UPS insurance policy better. This way they can make sure that their packages are in no danger even if something bad happens. Moreover, this article will cover how using WooCommerce UPS Shipping plugin will help store owners can insure their packages from their store.
UPS is one of the most trusted shipping services throughout the world. When it comes to shipping packages, it covers both domestic and international shipping. However, vulnerabilities are a part and parcel of shipping. There can be mishappenings due to which the package can be delayed or damaged. In the worst case scenario, the package can end up at the wrong address. It is due to these vulnerabilities, there is a dire need to insure your packages.
So at first, let's take a quick look at the UPS Insurance Policy.
UPS Insurance
According to UPS, "UPS is liable for loss or damage, at no extra cost, for up to $100.00 for each domestic package, international shipment, or pallet in a UPS Worldwide Express Freight® shipment, on shipments with no declared value. If the value of your goods exceeds this amount, you can declare up to $50,000 per package or $100,000 per pallet (subject to terms and conditions) by entering the declared value when you create a shipment on ups.com and paying an additional charge. Certain domestic packages are eligible for the enhanced maximum declared value of $70,000, subject to restrictions set forth in the UPS Tariff/Terms and Conditions of Service. Please note that these amounts are in U.S. dollars."
It is advised to read the UPS terms and conditions properly in case of any claims. You can check out UPS terms and conditions by clicking on the link here.
Declared Amount…
It is clear from the above section that UPS provides $100 insurance per package. However, if the package is worth more than $100, store owners can declare that amount and send it to UPS. This option to send some declared value is not free-of-cost. UPS charges a small amount from its customers to have this option on their UPS Account. Once done, all store owners have to do is to mention the declared amount while selling it and then send it to UPS. We will be discussing it in detail in the following section.
Providing Insurance using WooCommmerce UPS Shipping plugin
WooCommerce UPS Shipping plugin is a shipping solution for WooCommerce shop owners. It provides almost all the necessary features that are required for a smooth shipping process. Using this plugin, store owners can,
Ger real-time accurate shipping rates
Pack products based on weight and custom dimensions
Get shipping labels along with the return shipping label
Track shipment across the globe
Besides all these features, there is another feature that most of the store owners require making sure their money is safe.
Custom Declared Value
One of the points worth noticing in the UPS Insurance policy is that if the value of the shipment is more than $100, the insurance will be based on the declared value. However, the declared value must also satisfy some conditions. UPS doesn't insure the cost of selling the package. Instead, it only accepts the cost of replacing, repairing or purchasing the package in case of any mishappening. By providing the custom declared value, store owners can provide an amount that satisfies all these conditions.
WooCommerce UPS Shipping plugin serves that purpose very well by providing the declared value option for every product. Using that option store owners can set a declared value on the product edit page. The image below shows the custom declared value on the products page.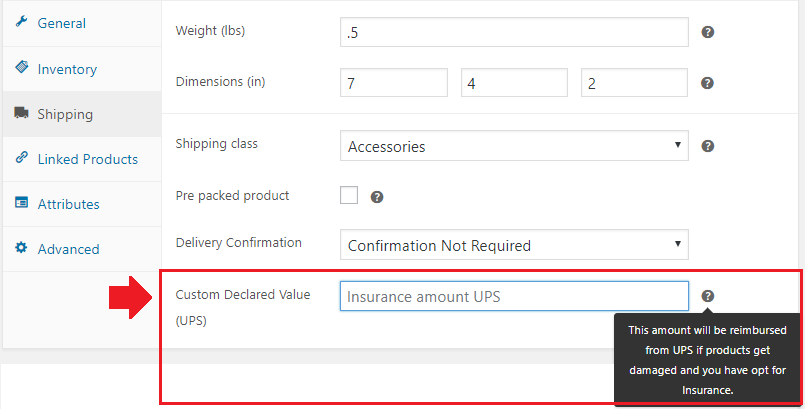 Using this value, the plugin sends a request to the official UPS servers. In that request, the declared value is sent alongside the other package details. The image below shows the debug request that the plugin sends.
You can clearly see the insurance amount in the image. This value will be the same that you enter on the products page.
Insurance for Multiple Products
Now it is obvious that there will be multiple products for which store owners would like to provide insurance options. For this, they need to attach a declared value to each and every product separately on the product page. This way when more than one product will be there in the cart, WooCommerce UPS Shipping plugin will combine all the declared values and will add them together. After that, the total amount will be sent to UPS as the Insurance value of the package. Below image shows the combined insurance for two products with custom declared values as $22 and $8, respectively.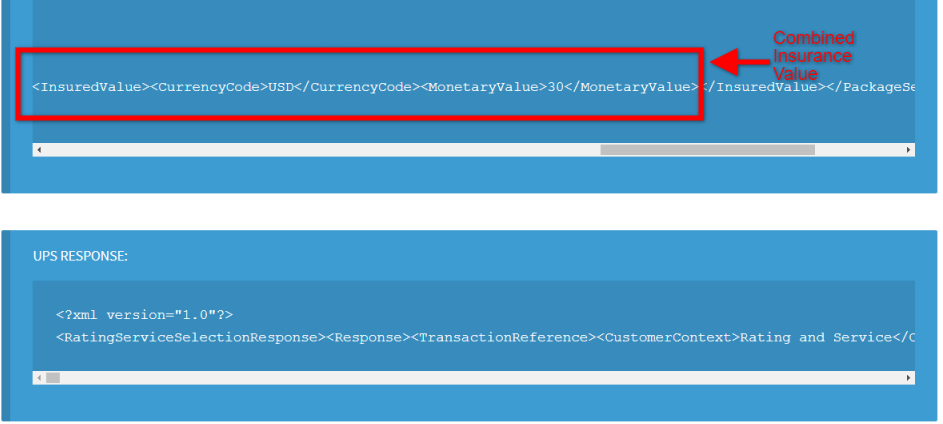 For an easy understanding, I have attached a video tutorial regarding setting up product insurance using WooCommerce UPS Shipping plugin below.
Summary…
This article covers the UPS Shipping policy and how WooCommerce store owners can enjoy the ability to insure their packages. While shipping, there are always chances that there might be some damage to the package. However, thanks to UPS, the store owners can insure the product under UPS Insurance policy. Using WooCommerce UPS Shipping plugin, store owners can enter the custom declared value for each product. This value will be sent to UPS as a request and in case of any damage or delay, store owners can claim for a maximum amount up to the declared amount.
---
If you have any queries regarding the plugin specifications I request you to please visit the WooCommerce UPS Shipping plugin's official products page here. There you will get all the information regarding the features as well as the price of the plugin. If you have any queries or suggestions about the article, feel free to share your views in the comment section below.