Shopify Australia Post International Shipping – Simplified
In today's globalized marketplace, international shipping plays a pivotal role in the success of Shopify businesses. Expanding beyond domestic borders offers a tremendous growth opportunity, but it also brings challenges. From navigating complex customs regulations to ensuring timely and cost-effective delivery, international shipping can be a daunting task. Fortunately, businesses can streamline this process by leveraging the power of the Shopify Australia Post Shipping app.
On this page
---
Solving Shipping Challenges with Australia Post
International shipping from Australia presents several unique challenges for businesses looking to expand their reach to global markets. Distance is a significant factor, as Australia is geographically distant from many key international markets, resulting in longer shipping times and potentially higher shipping costs. Customs and regulatory compliance can be complex. Each destination country has its rules and tariffs and requires meticulous documentation and adherence to international trade regulations.
This is where Australia Post can significantly assist businesses. Australia Post's extensive global network, coupled with its established reputation for reliability, makes it a preferred choice for international shipping. The Australia Post integration, such as the one provided by PluginHive, streamlines the process in several ways.
Regarding last-mile logistics, Australia Post's comprehensive and reliable delivery network, especially in Australia, can help bridge the gap between the departure point and the final destination. This minimizes the chances of issues with package delivery in remote or poorly connected areas.
Shopify & Australia Post Integration
Shopify Australia Post Rates & Labels app is a game-changer for Shopify store owners looking to enhance their international shipping capabilities. By integrating Australia Post with Shopify, businesses gain access to an efficient and trusted shipping partner.
Shopify International Shipping with the Australia Post App
Apart from features like real-time shipping rates, shipment tracking, and document printing capabilities, the app also supports certain features that can make international shipping a breeze for Shopify businesses, including:
HS Tariff Codes for Shopify Products
HS Codes, short for Harmonized System Codes, are standardized product classification codes used for customs and international trade. These codes serve as a universal language for categorizing products, making it easier for customs authorities to understand what is being shipped. HS Codes are crucial for international shipping because they help customs officials determine applicable tariffs, taxes, and regulations. Assigning the correct HS Code to your products ensures that they pass through customs smoothly and that the appropriate duties and taxes are applied.
To find the right HS Code for your products, you can consult customs authorities' websites or hire professionals experienced in international trade. These codes typically consist of numbers, with the first six digits representing a broad product category and the following digits providing more specific details.
Once you've determined the appropriate code for each product, you can visit the Shopify Australia Post app's Product tab, edit the product, and enter the HS code under the Customs Information section as shown below: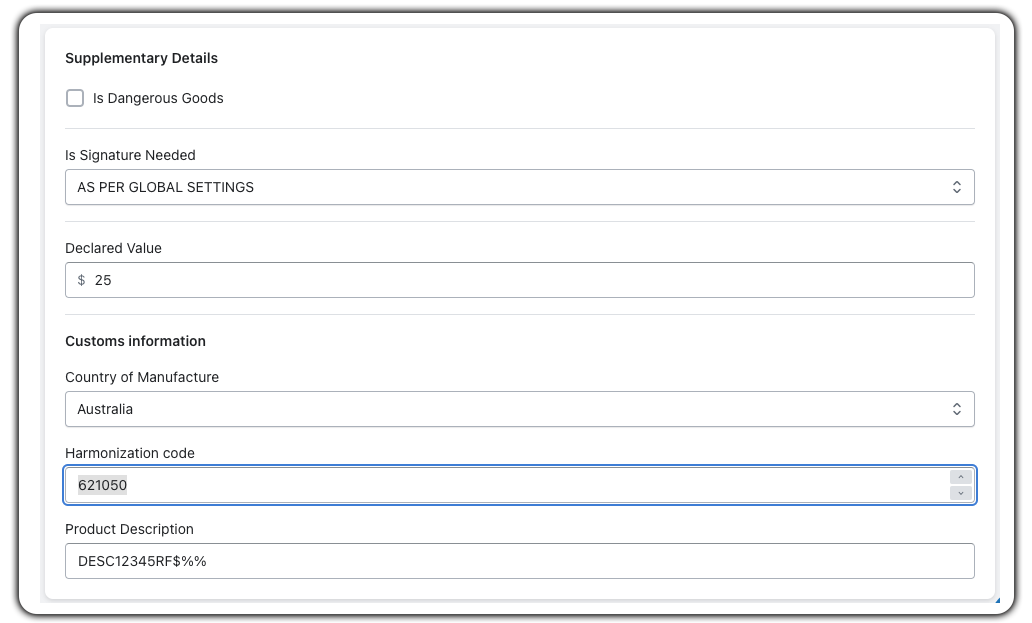 ---
Country of Manufacture
The country of manufacture is an important piece of information in international shipping documentation. It indicates the product's origin and has specific customs and trade agreement implications. Specifying the correct country of manufacture is crucial for customs authorities to assess the origin of a product. It affects the application of preferential trade agreements, customs duties, and tariffs. Incorrect or missing information can lead to customs delays and extra costs. It's essential to be accurate in this aspect, as misrepresenting the origin of a product can have legal and financial repercussions.
In Shopify, you can set the country of manufacture for your products by editing product details. Or, you can visit the Products tab within the app and select the country of manufacture as shown below.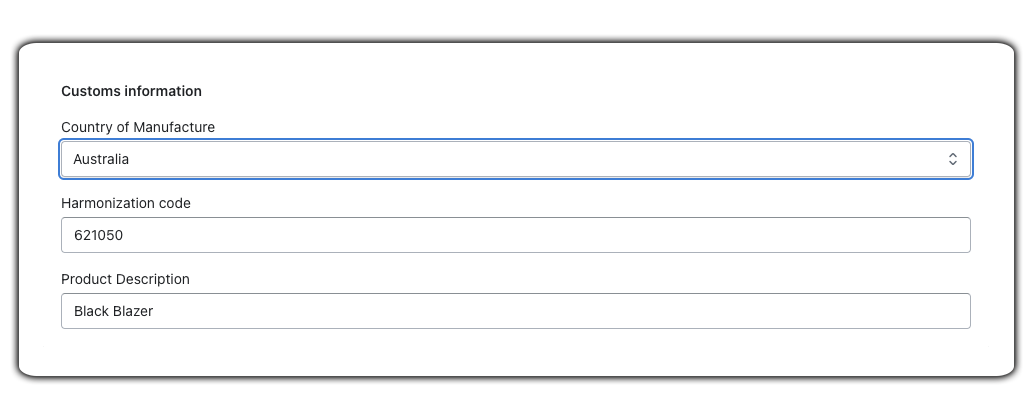 ---
Export Declaration Number for Shopify International Shipments
An export declaration number is a unique identifier assigned to each shipment leaving a country for international destinations. The export declaration number is essential for tracking and monitoring shipments. It allows customs authorities to verify the legality of exports and ensures that the shipment complies with export regulations. It is also crucial for security purposes and helps prevent illegal or unauthorized exports.
Typically, customs authorities or export control agencies issue the export declaration numbers. You can obtain these through the customs declaration process.
To include this number on your shipping documents and provide a clear record of your shipment's journey, you can enter the number while generating the Australia Post shipping label for Shopify orders, as shown below.
---
Australia Post International Shipping Labels, Commercial Invoice, and Customs Declarations
International shipping involves a range of documents to ensure compliance with customs and trade regulations. In international shipping, you typically need documents like commercial invoices, CN 22 labels, CN 23 labels, packing lists, certificates of origin, and customs declarations. These documents provide details about the shipped products, their origin, and their value. They also help customs authorities verify the legality and accuracy of the shipment.
The Shopify Australia Post Shipping app simplifies the management of these documents by enabling businesses to generate and organize them directly within Shopify.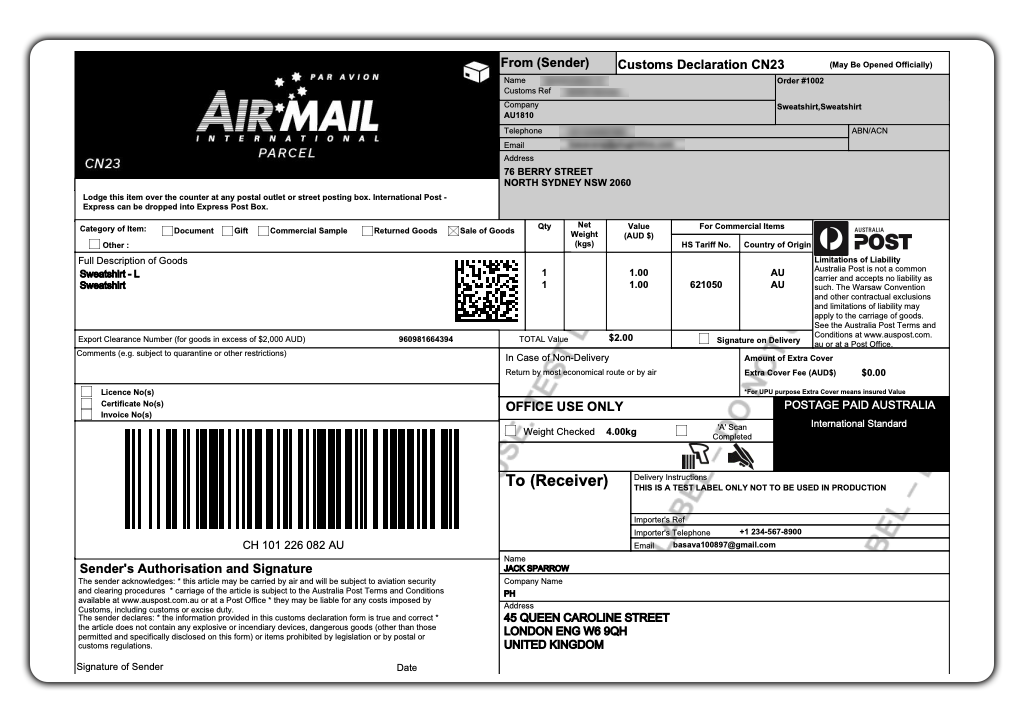 ---
Conclusion
In summary, PluginHive's Australia Post Shopify Shipping app navigates the complexities of international shipping on Shopify and makes it more accessible and efficient. The advantages of using this solution include seamless logistics, accurate shipping rates, simplified document management, and enhanced customer satisfaction.
We encourage readers to explore this integration to unlock new opportunities for global growth and success in the e-commerce world. International shipping doesn't have to be daunting; with the right tools and knowledge, it can become a key driver of your business's expansion. If you find it difficult to set up international shipping on your Shopify store, reach out to our shipping experts. We are always happy to help.