How to set up Shipment Tracking & Notify app on your Shopify store?
Shopify Shipment Tracking & Notify app provides Shopify store owners and their customers with a professional-grade tracking experience. The app notifies your customers about their package's location via email notifications and also allows real-time shipment tracking with a built-in tracking lookup page.
This article will guide you through the app's setup and how you can get the most out it on your Shopify store.
Getting Started with Shipment Tracking & Notify app for Shopify
Once you have installed the app on your Shopify store, you need to follow the steps below to set up the Shipment Tracking & Notify app.
Click on the Settings tab and enable Email Notifications. Enabling this option will allow you to send live tracking notifications to your customers via email
Enter the Email Branding Content, which will be used in the tracking email sent to the customers

Your Store URL
Your Store Name

The app allows you to send emails using your own SMTP Email server using your business/personal email ID. In order to do that, enter the following details under the SMTP section

SMTP Host
SMTP User Name
SMTP Password

Apart from SMTP Details, enter the email ID from which you need to send the tracking email under Email From option
Enter an email ID under Email Reply-To. If your customers reply back to the tracking email, that reply will be received on the email you provide in this step
Enter SMTP Port and click on Save to save changes
Shipment Tracking – Track Your First Order
Follow the steps below to start tracking your orders using Shipment Tracking & Notify app
Once you receive an order and you have successfully shipped it click on Mark as Fulfilled
Enter the Tracking ID you received from the Shipping Carrier under Tracking Number and click on Fulfil Items
Order Fulfilment Email will be automatically triggered containing the Tracking Details of the order
After fulfillment, the app will automatically send email notifications to your customers on every tracking status change. Here are some of the Tracking Emails sent to the customers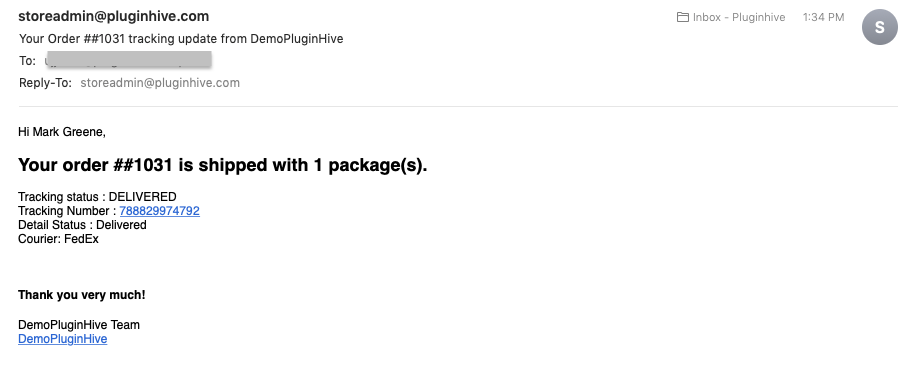 Visit the Apps section and click on Shipment Tracking and Notify
Under the Orders section, you will find all the fulfilled orders with the following details

Order Number – will have the order number
Shipping Carrier – will show the shipping carrier used to ship the packages
Order Destination – destination City and Country
Expected Delivery – delivery date estimate for the package
Status – Shipment Tracking status sent by the shipping carrier
Info – any important information or action will be displayed under this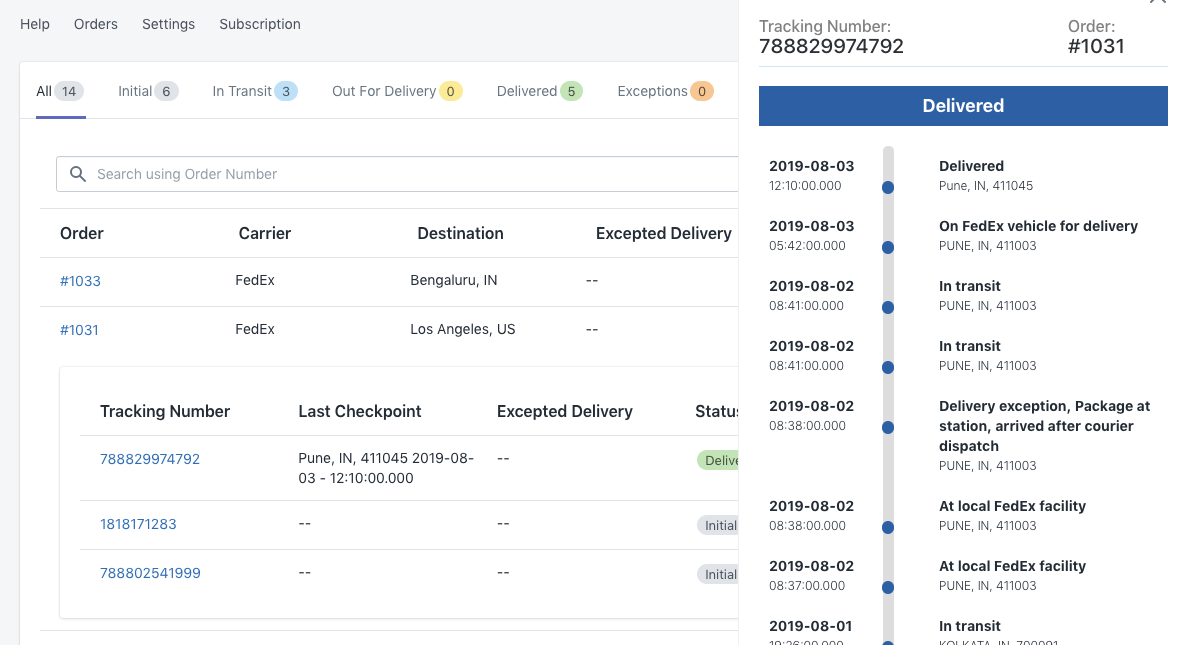 You can also

Monitor orders based on the Shipment Tracking Status
Filter orders based on the date
Tracking Lookup Page – Set Up and Preview
Follow the steps below to set up the Tracking Lookup Page on your Shopify store
Visit Shopify admin dashboard and click on Online Store
Click on Navigation and select under which menu you want to set the Tracking Lookup Page. You can select from
Click on Add Menu Item and enter the following details

Name – Enter the name of your Tracking Page. This name will be displayed under the Header/Footer of your Shopify store
Link – Enter /apps/phtracking/

Click on Add and click on Save Menu to save the tracking page under your menu
Visit your Shopify store and you will be able to see the Tracking Page Name under your selected menu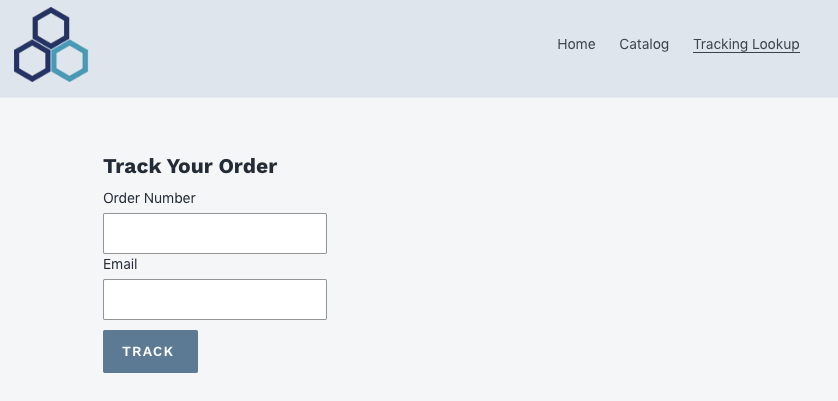 Customers will have to enter their Order Number along with their Email ID and they will be able to see the live tracking status of their order, as shown below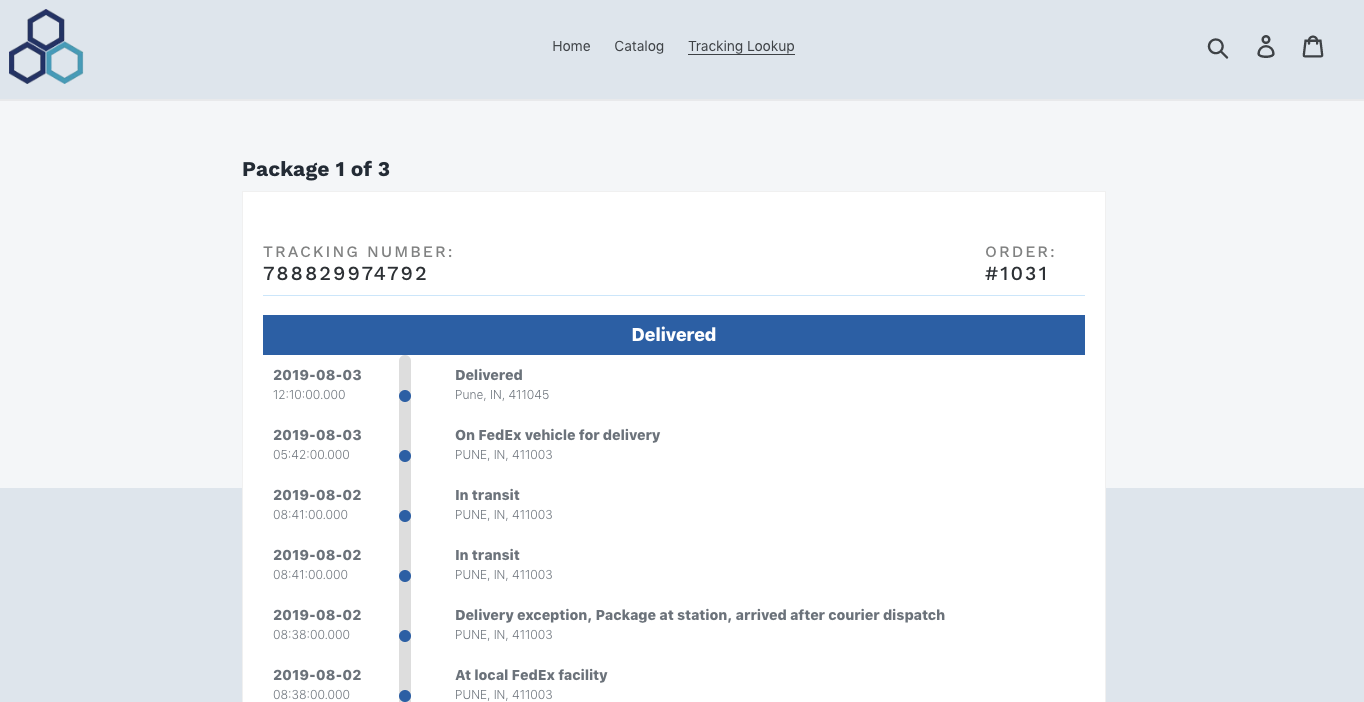 ---
In case you face any issues or have any questions regarding the application, please contact us and we will help you resolve any issues.