Scheduling UPS Pickup for WooCommerce Shipments
This article is aimed at the aid of such online store owners who want to avail the Schedule Pickups feature of UPS. This article will help store owners understand the way UPS handles pickup requests. It will also cover how using the WooCommerce UPS Shipping plugin they can enjoy this amazing UPS service directly from their store.
Today everyone is moving towards online business. With platforms like WooCommerce, more and more people are able to be a part of E-commerce every day. But there are some important aspects to take care of while setting up an online store. Among these important aspects of online business is Product Shipping. It is one of the most important as well as complex things to do when owning an online store. That is the reason people choose shipping services like UPS to take care of their shipments across the world.
To understand the scenario better, let us take a look at Olivia's case.
---
Live Scenario…!
Olivia runs an online Electronic Store in Kansas City, U.S.A. She delivers to her customers across the US through UPS Shipping Service. Since she receives a minimum of two to three orders daily, a day to day basis delivery has become more of a necessity for her.
Her biggest issue is that she doesn't support product packaging at her warehouse. And as a result, she has to deliver the product to the nearest UPS Packaging and Delivery store. This task on a daily basis is not a very efficient and time-saving option for her. Hence she wants a more flexible and time-saving option for packaging and shipping the order.
---
UPS Pickup
The solution to Olivia's issues is a service called UPS Pickup. With the help of this service, if anyone wants to deliver a shipment anywhere in the world, they can request a pickup from UPS. After that, UPS will enable the nearest Shipping Center to pick up the shipment from the store or warehouse.
For store owners like Olivia, who tend to ship more often, this feature is a total lifesaver. It is neither advisable nor practical to go on delivering the products to the UPS Shiping Center on a daily basis.
By default UPS provides these pickup options:
Daily Pickup: A UPS driver will make a daily stop at your location, whether or not you have shipments that day.
Same Day Pickup: Same-day pickup is available in select areas.
Occasional Pickup: At your request, UPS will pick up your packages on an occasional basis.
Now that we are clear with the UPS feature, let us check out how to use UPS Shipping Plugin to enable and request UPS Pickup.
---
Scheduling Pickup using UPS Shipping Plugin
WooCommerce UPS Shipping plugin provides almost every service offered by UPS. Similar to services like tracking and label generation, store owners can also schedule pickups using this plugin based on their convenience.
The case of Olivia is that she needs a nearby UPS Package and Delivery store to visit her warehouse on a daily basis. This will save her a lot of time as she will no longer have to worry about her shipment packaging.
But before she can make it possible, there are a few options she needs to enable in the plugin settings. Here are some screenshots displaying the options she needs to enable.
The most important thing is to enable the option for pickups in the Advanced Settings of the plugin.
UPS Shipping plugin allows store owners to choose from different pickup types, based on their business cases. The following image shows the Pickup Types supported by UPS Shipping plugins.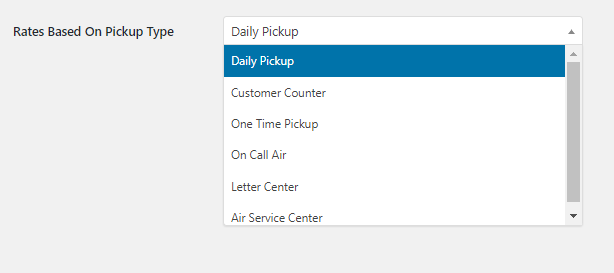 Based on Olivia's business case, since she needs to deliver shipments on a daily basis, she has to select Daily Pickup.
Similarly, there are various customer classification parameters based on the cost of service that the store owners are using. Take a look at the following screenshot. Based on the scenario, Olivia comes under the daily rates category.
Since the UPS Shipping Center will send someone to pick up the shipment from the warehouse of the store owner, they should be well informed about the opening and closing timings of the warehouse.
By default, as soon as you enable the Pickup option, UPS Shipping plugin provides the following time settings. You can opt to change the same based on your timings.

Now the only thing to worry about is the day of pickup. In most of the stores, Saturdays and Sundays are not considered as working days. But there are some stores that deliver irrespective of the day of the week. Since Olivia is among those who are open every day of the week and ready to deliver customer orders, she needs to specify that too.
The following setting will help her specify the days of the week UPS can pick up the shipments from her store.
Since all the settings are done, based on the store owner's preferences, let's see how will Olivia schedule the pickup.
Once her customers have successfully placed an order, it will get reflected within her WooCommerce store.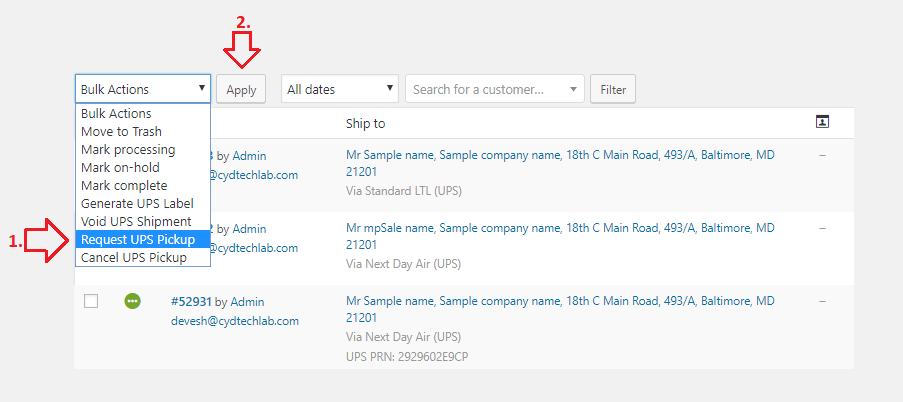 Olivia can easily request for a pickup from UPS within the same interface. The following image will show how you can schedule a pickup based on the earlier settings.
After you have successfully scheduled the pickup the following notification will come at the top of your WooCommerce store page.
Apart from that, you will also receive the confirmation email containing the Pickup Request Number (PRN).
Now the store owners can choose to cancel the request due to some reasons, they just have to follow the steps below to cancel the request.
And of course, you will also receive the confirmation as the following notification.

---
Key Findings…
So based on the above-mentioned settings:
Olivia will schedule a pickup or even cancel it directly from within her WooCommerce store.
UPS Shipping store nearby Olivia's warehouse will collect shipments directly from there.
She will be charged on a daily basis for this service.
She may or may not have daily deliveries but UPS will send someone to pick up the package anyways.
---
So this was how to request and schedule a UPS Pickup so that the WooCommerce store owner has more time to focus on other important tasks, or just to decrease the workload.
If you have any queries regarding the UPS Pickup service or regarding the WooCommerce UPS Shipping plugin, feel free to share your views in the comment section below. We will try to engage and solve any confusion regarding the same as effectively as possible.