Customize UPS Freight Shipping based on Product's Weight
This article will cover how a store owner can configure the WooCommerce UPS Shipping plugin so that his customer should be able to select freight services for their respective product.
WooCommerce has emerged as a platform where any person can set up his or her online business. It provides tons of opportunities and tools that help in developing the business and achieving greater heights. One such way WooCommerce helps businesses to grow is by proving the ability to reach out to customers. Delivering products to customers has been an important aspect of any online business. Be it an online art gallery or an automobile modification store, product shipping has its importance in every business.
In such a scenario, say an automobile modification store, where the finished product is bigger in size, shipping takes a different route than usual. One of the ways these heavy shipments are delivered is through UPS Freight Shipping.
---
UPS Freight Shipping
The idea behind UPS Freight services is to ship packages that weigh more than 150 lbs (68 kgs). These packages can contain several products or a single product based on the order. Normally, Freight charges are predefined and the customers have to bear those charges if the delivery is through freight.
The best thing about UPS Freight is that the shipping can be delivered through any mode of transportation. Air, water, and truck freight are available for these services.
---
Live Scenario…
Sam is the owner of an Online Automobile Mod store based in Kansas, U.S.A. He has a huge customer base in the US and he even ships custom-made parts across the Mexican border. But the issue with Sam is that the products that he ships cover a wide range.
From small products such as turbochargers and intercoolers, weighing around 30 lbs to the set of custom tires and rims weighing more than 200 lbs, he has to ship everything via UPS shipping services.
He wanted to configure his WooCommerce store for all those products which don't cover the weight limits for UPS Freight i.e. 150 lbs.
Before going deep into Sam's issues, let us take a look at various UPS Freight services that help store owners like Sam deliver products to their customers without any hassle.
---
Freight Shiping using WooCommerce UPS Shipping plugin
By default, the WooCommerce UPS Shipping plugin provides the following Freight Shipping services:
Freight LTL
Standard LTL
Freight LTL – Guaranteed
Freight LTL – Guaranteed A.M
Worldwide Express Freight
---
Now let's discuss these services in detail.
Freight LTL
LTL stands for less-than-truckload. The store owners can deliver their LTL freight packages through UPS Freight LTL. This service's delivery commitments are dependent on the destination and source of the shipment, along with the service level selected by the store owners. Further, the freight services are available to-and-from all 50 states of the US, Canada, Puerto Rico, the U.S. Virgin Islands, and Guam.
---
Freight LTL Guaranteed
This UPS Shipping service lets you know when the shipment will arrive on a certain day. It provides on-time delivery to direct points in the US and Canada, guaranteed.
This shipment is available when the shipping is done with a contract or special pricing other than the current UPS Freight Tariff.
---
Freight LTL Guaranteed A.M.
The UPS Freight shipping provides guaranteed daytime- definite by noon for all direct points. But this shipping service is limited to selected ZIP codes in the 48 states of the US and Washington DC.
But if under any circumstances, UPS Freight fails to deliver any such shipment by the delivery date/time, UPS Freight's sole liability shall be to cancel freight charges for that shipment upon the customer's request.
---
Standard LTL
UPS Freight shipping provides standard LTL shipping for all the store owner's LTL needs. This shipping option is best suited if you want to deliver between the 48 states of the US and Mexico.
The Standard LTL offers door-to-door delivery between 3-9 business days based on the source and destination.
---
Worldwide Express Freight
This is the best option if you are looking for fast freight delivery across the globe. Worldwide Express Freight, as the name suggests, delivers across more than 60 countries from more than 65 countries in the world.
One of the biggest benefits of this service is its guaranteed delivery by the end of the day. But this guarantee varies from continent to continent. As it offers, next business day across Canada, two business day delivery to Europe and Latin America, and two to three business day delivery across Asia.
---
Optimize WooCommerce UPS Shipping plugin based on Weight Classes
Sam's issue can be easily solved using the WooCommerce UPS Shipping plugin. All Sam needs is a shipping class that will contain all the products with weight less than the freight limit, 150 lbs.
The following screenshots will show you how to configure the product and shipping class whose name will be Small Products:

---
After configuring the shipping class, add products to this shipping class.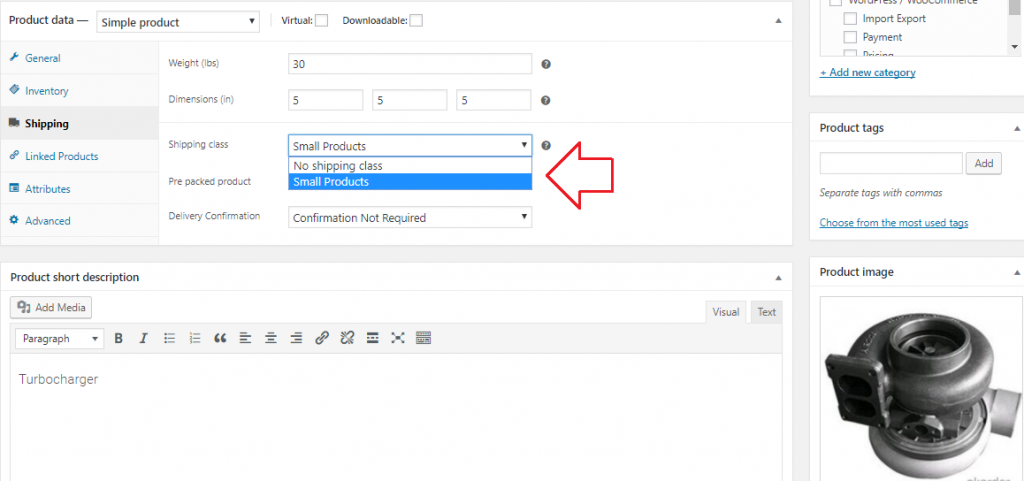 ---
This shipping class, Small Products, has certain products that weigh less than 150 lbs.
Now to optimize the UPS shipping plugin for freight services, you need to add a code snippet which you can get from this link.
For reference let's check out what happened in Sam's scenario after making all these changes.
Earlier, when Sam's customers used to select products which were having weight more than 150 lbs, say the following product Alloy Wheels with Tyres (2 pairs) with a weight of around 200 lbs, they used to see the following screenshot:
---
As you can see, Freight Services are available for this product based on its weight.
But as soon as the customers select a product under the above-mentioned Shipping Class- Small Products, it shows both the standard as well as freight shipping options. Here is an attached screenshot:
---
But after adding the code snippet, Sam's customers will be able to see different UPS Shipping services based on weight and the shipping class that they are a part of.
Take a look at the below screenshot. Like earlier, it shows a product with valid Freight Services enabled.
---
But for the product shown below, is in the Shipping Class, only standard services are enabled for this product.
Only Standard UPS Shipping options showing for Small products
---
This was all about the UPS Freight shipping services and how you can customize your WooCommerce store according to the product weights for accommodating the UPS Freight Services.
If you have any queries regarding customizing the WooCommerce UPS Shipping plugin for the optimized working of your online store, based on your business case, feel free to write to us or share your views in the comment section below.
---