Optimize FedEx Packages for Better Shipments in WooCommerce
When you're looking for ways to be more efficient with the FedEx shipment, you should probably implement some package optimization techniques for your WooCommerce orders. Package optimization is the process that involves various steps to make the product's packaging more friendly to the supply chain management system. Even FedEx insists their users focus on this subject. They are constantly providing articles and tips that are curated for you to pack your parcels efficiently. Doing this not only helps you to save your resources, but it also helps FedEx to effectively arrange and deliver packages in a more economical way. Thus, optimizing your FedEx packages is a win-win situation for both parties.
This article has been created to help you implement some necessary changes in your WooCommerce business in order to optimize FedEx packages. Let us go through the article and see how everything can be put together in order to do that.
---
The role of WooCommerce Shipping Plugin for FedEx with Print Label in the optimization
The WooCommerce Shipping Plugin for FedEx with Print Label is an amazing plugin that offers functional features that can help you optimize your packages. These features can help you prepare your packages in a more efficient way. Following are the features and functionalities that can prove to be quite helpful for you.
---
Use FedEx Ground Economy Hub for low-weight items
FedEx FedEx Ground Economy (formerly called FedEx SmartPost) Hub is a useful integration of the famous FedEx Ground Economy. This shipment service reduces the transit time and minimizes the handling of low-weight products. The maximum weight defined is 70 lbs and the maximum length and girth should be 130 inches. This service is offered by FedEx in the US, and it can be delivered to every residential address, and warehouse address, including PO boxes, military APO, FPO and DPO, Alaska and Hawaii regions as well.
One important thing to make sure of is that your FedEx account must be enabled for SmartPost in order to enable the service in the shipment section of your WooCommerce shopping cart. The setting can be accessed from the FedEx page in the WooCommerce settings section. Below is the screenshot of that: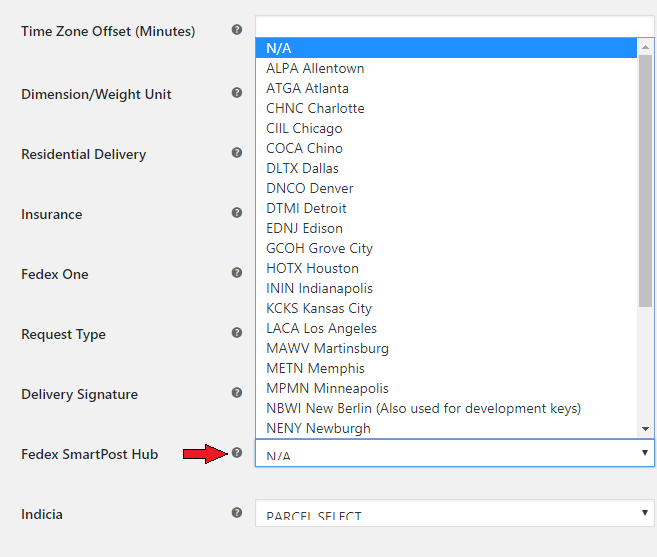 As you can see in the image above, there are a lot of locations on the list and based on your choice, you can choose the relevant destination. Below the SmartPost option, you can notice another drop-down menu called Indicia. It is important to know that Indicia is applicable for the SmartPost service only.
This tells the receiving postal administration that the parcel is allowed to enter the domestic mail delivery network and contains the relevant items only. You can choose one of the six Indicias available below.
Service type
Minimum Weight
Maximum Weight
Dimensions
Media Mail
0.01 pounds
70 pounds

The sum of length plus girth cannot exceed 84′

Minimum: 6″(L) x 4″(W) x 1″(H)

Parcel return
0.01 pounds
70 pounds

The sum of length plus girth cannot exceed 130′

Minimum: 6″(L) x 4″(W) x 1″(H)

Parcel Select
 1 pound
 70 pounds

The sum of length plus girth cannot exceed 130′

Minimum: 6″(L) x 4″(W) x 1″(H)

 Presorted Bound Printed Matter
 0.01 pounds
 15 pounds

The sum of length plus girth cannot exceed 84′

Minimum: 6″(L) x 4″(W) x 1″(H)

 Presorted Standard
 0.01 pounds
 < 1 pound

The sum of length plus girth cannot exceed 84′

Minimum: 6″(L) x 4″(W) x 1″(H)
---
Explore the Services and Packaging section to take complete control
If you scroll down below the FedEx settings page, you would come across the Services and Packaging section. This section is very important for you to understand as it contains the parameters that are required to configure your package's physical attributes. In this section, you have three methods to pack your items in the package –
Pack items individually
Pack items into boxes based on their weight and dimensions
Pack items solely on their weight
You can refer to the image below.
Here, if you want to strictly optimize the packaging, then you should not choose the first option. This is because of the fact that FedEx will pack the item with a package that might waste some extra space. This will result in an extra price for the shipment and consume more space irrespective of the item's physical attributes. But, you can go for this parcel when you want to send an order individually. For example, if you want to deliver items that cannot be packed with other items because it is too delicate, then packing it separately would be a better choice. Doing this would not save the desired cost but will ensure the safety of the item.
Another method of packaging is by measuring the weight and the dimension of the items and then choosing the FedEx package accordingly. This is the recommended method because you would have complete control over the package selection and can check the price accordingly. Refer the screenshot provided below –
The options that are shaded in the color gray are not customizable as they are predefined by FedEx. You only have the access to enable or disable a particular FedEx package. This means that if your items can fit inside the given dimension provided by FedEx, then you can choose that particular package. This is the only limitation of using this packing option.
However, you can also customize the parcels based on your item's physical dimension as well. This feature is very good as it gives you more control and the ability to select the exact box size. You can see four examples in the screenshot above. For example, if you are providing custom-made paintings and their sizes vary based on the customer's requests, then going for this option would be a great choice for your business. It will help you avoid any extra costs.
Another small benefit of going for the custom-made boxes is that many customers feel special when they receive the package.
The last option is Weight-based packaging. There are times when you would want to deliver an order which is big but weighs lesser than its assumed weight. For example, if you are selling a stuffed toy and want to optimize your packaging, then this packing option would prove to be very effective. This is because of the fact that these kinds of items would result in lighter while measuring the weight and thus, you would save money on the packaging as well.
You can refer to the following image given below-
---
Using the FedEx LTL Freight setting can help a lot
FedEx offers Less-than-truckload freight shipping (LTL) to their customers. It is used for the transportation of small freight or when the complete shipment doesn't require to occupy the entire space available in the delivery vehicles. This shipping method can be used when the overall orders weigh between 150 and 15,000 pounds. Choosing this shipping method would save both cost and space, which is a good thing for WooCommerce businesses.
If you scroll down the FedEx settings, you will see the FedEx LTL Freight Settings. You can refer to the snap given below –
You would need activated Freight access in your FedEx account to use this feature. To enable this feature you have to tick the Enable option as shown in the image given above. After this step, you will have to enter your credentials in the region defined by the arrows.
Next comes an important step where you will have to select the Default Freight Class. In this drop-down option, you can see various classes based on the weight specifics. This means, by looking at the various classes you can get the commonly standardized freight pricing for your shipment when working with FedEx shipping, warehouses, and brokers. These classes are defined by the National Motor Freight Traffic Association (NMFTA) and are made available through the National Motor Freight Classification (NMFC). These classes are important to deliver products across the U.S.
You can see the following list of freight classes offered by FedEx. This way you can optimize your orders and choose the freight class as per your need.
---
What kind of package are you looking for?
Before going to this step, you should know what are the types of parcels or packages that you usually deal with. Meaning, you would have to find out the type of packages that you choose/want to deliver your products to customers. For example, if you sell jewelry or ornaments on your WooCommerce store, then it would be better to use smaller boxes that can hold the items intact. It should not be too big or too small for the product. In a similar way, you can opt for the relevant box type depending on the physical dimension of the product.
You can check out the following snaps of some of the types of boxes offered by FedEx –
It is a critically important task to check out the various FedEx boxes in person before going for one. Doing this will give you an approximate idea about the space available in the parcel, the strength of the packaging material, and other necessary physical attributes as well.
---
Conclusion…
Implementing these changes and settings in your WooCommerce store can help you ship your FedEx orders efficiently. This will help you a lot in this matter but would not be enough in real-life scenarios. This is because in the real world, you may face problems that would need you to physically solve them. For example, if you're selling some organic products that have the tendency of going bad, you should ask the shipment personnel to make some changes in order to avoid that.
You can refer to this article by FedEx that contains some useful tips and tricks that can help you to pack your products in a more efficient way.
We hope this article was helpful to you in some way. Let us know in the comment section below.
#1 WooCommerce Shipping Plugin for FedEx with Print Label that offers unparalleled features like Automatic Shipping Label, Return Label generation, Shipment Tracking, and Multi-Vendor Support.
6,000+ Active Installs
100+ Customer Reviews
97% Customer Satisfaction Rating
Download Plugin