Does UPS Deliver On Saturday? – Provide Estimated Delivery Dates on WooCommerce

In this guide, we will tell you about UPS deliveries, their delivery date estimates, and which UPS services deliver on Saturdays. We will also look over the WooCommerce UPS Shipping Plugin which offers a feature that lets you show delivery estimates on the Cart page for your orders.
About UPS shipping services
UPS is among the world's top logistics companies. The unmatched quality of service makes it the best choice for delivering products throughout the globe. UPS supports both domestic as well as international shipping.
If that's not enough, you can even ship your heavy products using various world-class UPS Freight shipping services. UPS really maintains quality standards by providing various secure and guaranteed shipping services at your disposal.
UPS Saturday Delivery
Talking about the quality shipping and reliable options that UPS provides, did you know that not all UPS shipping services support Saturday delivery?
Well, yes!

UPS Saturday delivery is a kind of special service which shipping carriers provide to business owners but only if they require it. Similar to other shipping carriers say FedEx, UPS too, provide Saturday delivery for some of the shipping services. Check out FedEx Saturday delivery and pickup to know more.
Here are the UPS shipping services which offer Saturday delivery.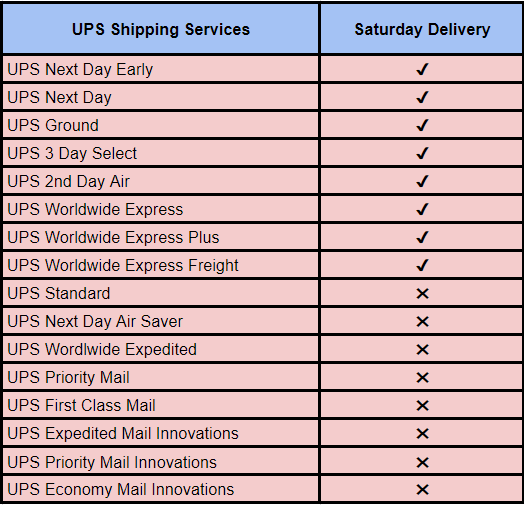 You can clearly see the shipping options like UPS Ground, Next Day Air, Next Day Early, etc., deliver on Saturdays whereas services like UPS Standard, UPS Priority Mail, etc., don't.
In such cases where the WooCommerce UPS shipping services do not deliver on a certain day, it becomes very important that the customers know exactly when they can get the delivery. You can easily imagine how customers would probably feel when their products are delivered after 2 days on Monday even though it's displayed as a Saturday delivery on your website.
To avoid such confusion, you require a robust delivery date solution for your WooCommerce or any other e-commerce platform-based store for that matter.
How to display accurate delivery dates on your online store?
In this article, we will see two advanced WooCommerce solutions that will help you provide accurate delivery dates to your customers. The first is a carrier-specific shipping solution that provides you with the accurately estimated delivery dates on the cart page directly from the shipping carrier.
And the other one is an advanced estimated delivery date plugin that helps you display the delivery dates on the cart page. So let's check out how you can display estimated delivery dates on your website. You can include the estimated delivery date information when customizing your WooCommerce emails.
WooCommerce UPS Shipping plugin
WooCommerce UPS plugin is the best shipping solution out there. This plugin features real-time accurate UPS shipping rates, official UPS shipping labels, live shipment tracking and much more.
However, apart from all these benefits, one more thing that this plugin provides is an accurate estimate of when customers can get their orders.
WooCommerce UPS Shipping plugin supports estimated delivery date functionality. All you have to do is just enable the option to display delivery dates to the customers and you are all done. The image below displays the estimated delivery date option in the plugin settings.
Once you enable the delivery dates option, the UPS WooCommerce plugin will request the delivery dates along with the shipping rates from UPS. And as soon as the customers visit the cart page and calculate shipping rates, the plugin will display the delivery dates for every shipping option. Take a look at the image below.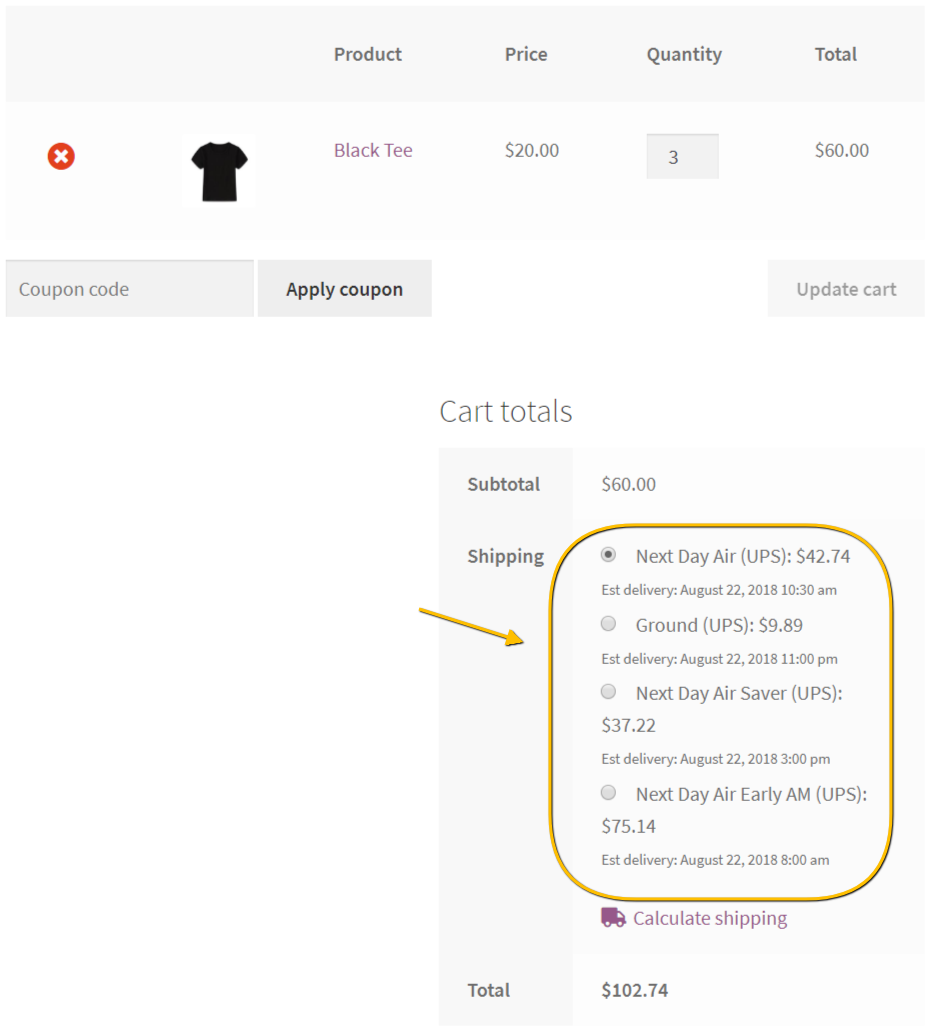 The image displays estimated delivery dates for all the shipping services available in a particular order. Hence, this way the WooCommerce UPS Shipping plugin gets the delivery dates from the shipping carrier itself. In case a shipping service doesn't support Saturday delivery, the plugin will automatically display the correct delivery date on the next working day.
WooCommerce Estimated Delivery Date plugin is another powerful tool that can help you get accurate delivery dates on your cart page. The plugin calculates the order delivery dates based on various factors like the destination address, the shipping classes, and even the shipping methods.
This way you have more control over what delivery date you would want as per your preferences. The plugin makes sure your customers get accurate delivery dates on the cart page. Take a look at the image below.

The image displays how WooCommerce Estimated Delivery Date plugin calculates the estimated delivery date based on the shipping method selected by the customers.
You can clearly see both Saturdays and Sundays are set as no delivery days in the plugin settings. Hence, whenever the customer selects this shipping method, they would get an accurate delivery date irrespective of the days of the week.
Final Thoughts…
Displaying accurate delivery dates on your website can serve you well by letting your customers know exactly when they can expect their packages. Even in the case of tricky weekend delivery scenarios, you can save yourself a lot of trouble by choosing any one of the solutions we discussed in this article.
Being an online store owner, you would not want your customers to go away just because you were not able to display accurate delivery dates for them. Hence, opting for advanced delivery date calculation plugins is the best bet that is a permanent and reliable solution.
Well, we have a similar solution for those WooCommerce store owners who are using FedEx as a shipping carrier, using our WooCommerce FedEx Shipping plugin. Feel free to check it out too.
If you need any help setting up shipping on your online store then feel free to contact our customer support.
Happy selling!