WooCommerce Bookings Add-ons – Block Product Availability Based on Other Bookings
WooCommerce Bookings and Appointments plugin allows you to assign an asset to two or more products automatically. The plugin ensures that the asset quantity is reduced from each of these products whenever a booking happens to any of the products for a particular date or time.
For example, when two tour products Tour A and Tour B are using the same Tourist Guide. You can assign the guide asset to both tours so that when the first booking happens for any tour, the other tour booking is blocked for the same time.
This behavior is different when the asset quantity is more than 1, So when there are two guides, and one of the tours is booked, the second tour is still open since it could be taken by the second guide.
However, if your requirement is to have the other product blocked irrespective of the asset quantity, this is not possible by default. Hence, the need for this addon.
For example, a scenario where a full ground can be booked or the sections can be booked. When a booking comes for the full ground, all the other sections' bookings need to be blocked and when there is a booking on one of the sections, the full ground needs to be blocked but the other sections could be still open for booking.
---
Block Product Availability based on other Bookings Add-on plugin
---
What does it do?
This add-on is used to block the availability of other products using the same asset when a specific product is booked for a particular slot prior to the others. In this case, you have to assign the same asset to all the products.
The setup is quite simple as shown below :
Pre-Requisites
---
Block the availability of all the other products for a particular booking slot when a specific product among them is already booked by the customer and vice versa
Use Case: We offer a bunch of different class types (e.g., Classroom Saori Class, Saori Zen-Tensive Class, and Online Saori Class). These classes need a handloom for learning.
The one exception to this is the Online Saori Class, which is the one we need to block out the entire studio for, such that:
(1) When a student wants to book the Online Saori Class, the only time slots that would show up as available for that class would be ones that were completely empty and didn't have any other classes already booked in that time slot, and
(2) After a student had booked an Online Saori Class, that time slot would be "full" and be unavailable for anyone else to book any other class (of any type) during that time.
In short, The goal is to restrict other products from getting booked when the online class is booked and vice versa.
Solution
Follow the steps below.
Contact PluginHIve support to get the custom addon and Install the Block product availability based on other bookings addon
Install the plugin on your WooCommerce store
Book the Online Saori Class Product from 15:00 to 16:00 on the 15th of May as shown below
---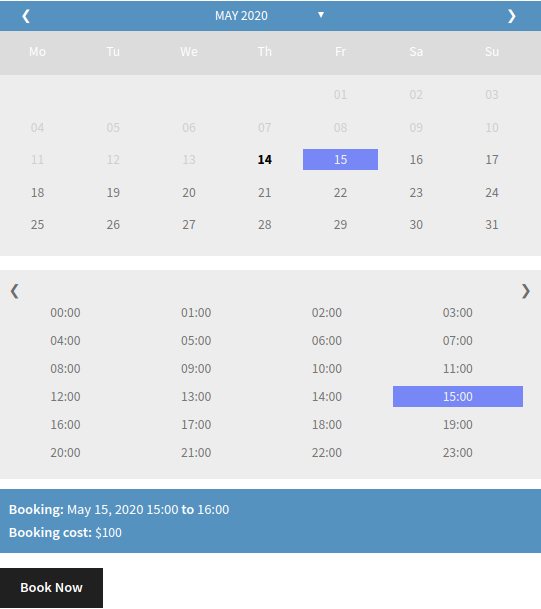 ---
The booking for the other Products – Saori Zen-Tensive Class and Classroom Saori Class will be blocked out from 15:00 to 16:00 on the 15th of May as shown below
---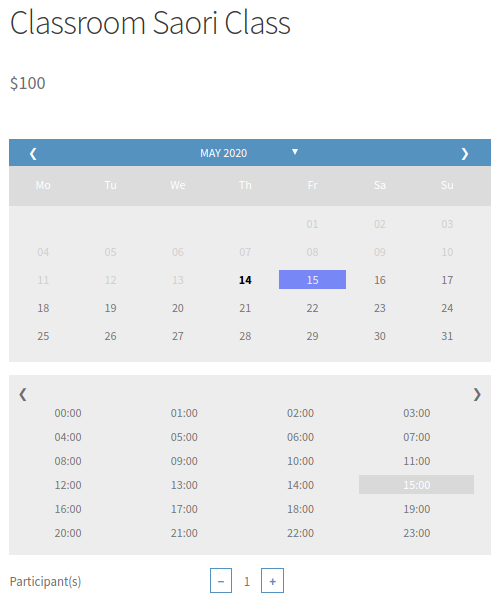 ---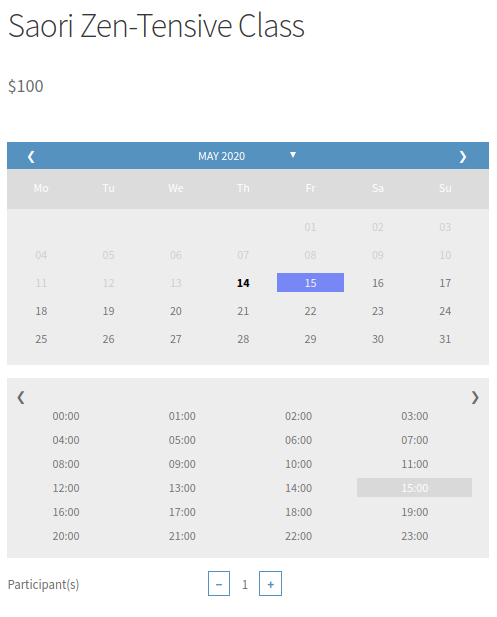 ---
You can now see that when online class is booked and no other class can be booked for that particular time slot.
---
Final Thoughts
WooCommerce Bookings and Appointments plugin is a one-stop booking solution when it comes to WooCommerce store owners. The plugin supports multiple booking scenarios and additional customized solutions which are discussed in this article.
If you have any queries based on the plugins discussed above, or you have a complex booking scenario, feel free to contact our support team. We will try our best to help you find a solution and set up your online WooCommerce store.