UPS Boxes for WooCommerce Shipping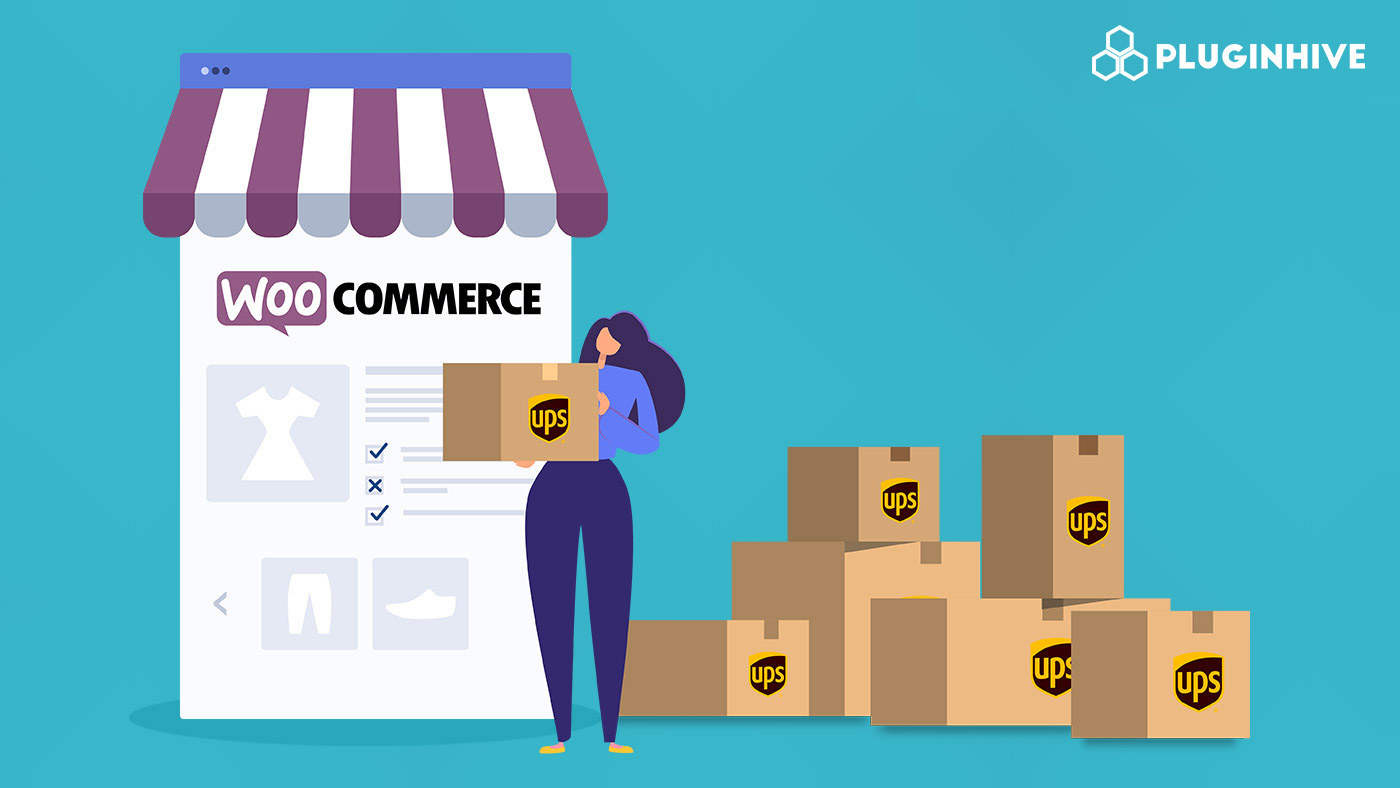 This article will cover the standard UPS Boxes and will help you understand them better. It will also cover various scenarios where WooCommerce store owners can use these boxes when using the WooCommerce UPS Shipping Plugin. Read more below.
When it comes to delivering packaging across domestic and international borders, the UPS Shipping services are one of the best that is available. Be it for online or offline business owners, UPS Shipping service provides hassle-free package delivery.
With our WooCommerce UPS Shipping plugin, the idea has always been to provide all the amazing UPS shipping services to store owners, directly within the WooCommerce store. This plugin serves all the needs of store owners who are looking for the best shipping experience in WooCommerce. And undoubtedly, the most important and necessary facility is the UPS live tracking feature.
---

---
UPS Boxes
By default, there are different UPS packaging types available. In the WooCommerce UPS Shipping plugin, the package options are available in two different categories:
Standard (Default) UPS boxes
Custom UPS boxes
Learn more about the Custom UPS shipping boxes here. Now let us discuss the Standard UPS shipping boxes in detail provided in the plugin.
Standard UPS boxes available with the WooCommerce UPS Shipping plugin
By default, the following UPS shipping boxes are available in the WooCommerce UPS Shipping plugin. Here we will discuss them in detail.
UPS Letter
UPS PAK
Tube
UPS 10 kg Box
UPS 25 kg Box
UPS Express boxes
Along with the specifications such as dimensions or weight limits, this article will also help store owners identify possible business cases where the above-mentioned shipping boxes can be used.
UPS Letter
The UPS Letter is suitable for urgent correspondence and document delivery, especially through UPS Next Day Air, 2nd Day Air, and International services. So it delivers both domestically as well as internationally.
UPS Box size for Letter: 12.5″ x 9.5″
Weight limit: 0.5 lbs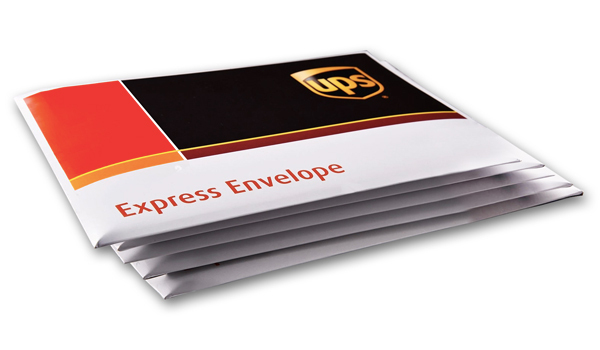 UPS Letter packaging is valid for a minimum of 25 envelopes in a single order. The increment is possible for 25 more units but if the order contains more than 250 parcels, the increment value varies.
Now here are some possible business cases that may be easy to achieve using UPS Letter:
Legal documents are something that no one wants to fold. Moreover, you need a fast mode of shipping to deliver the legal documents. These documents can be easily shipped across the globe using the UPS Letter shipping option.
It serves as the cheapest as well as most appropriate packaging method for legal documents.
---
UPS Express PAK
UPS PAK is used for protecting shipments that need a 16″ x 13″ x 1″ (or local equivalent) container of tear-resistant material. It is mostly used when the shipment has to be shipped with Next Day Air, 2nd Day Air, Worldwide Express, and Worldwide Expedited services.
The dimensional limit for the packages shipped via UPS PAK is 17″ x 13″ x 1″. It is to be noted that the shipping cost that will be charged, will be based on the weight of the package. Also, in the case of international shipping, all the export documentation is required in case you decide to pack your products in a UPS PAK.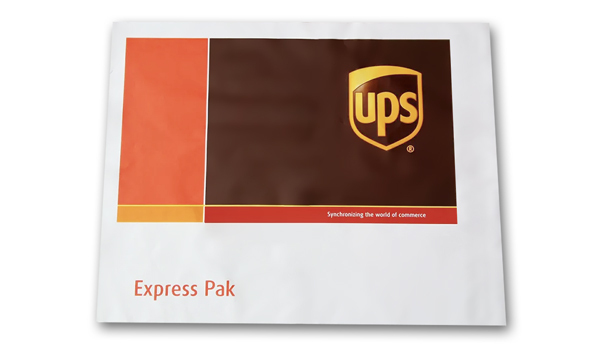 Here is a shipping scenario where you can choose to pack and ship your products in a UPS PAK.
Ship Gift Cards and Certificates
UPS PAK serves as the ideal solution if you want to ship gift cards to your customers. Moreover, in case you provide a certificate of purchase with the products, it will be best to use UPS PAK. The reason is, UPS PAK serves as the packing option which is flat and non-foldable or non-breakable.
---
UPS Tube
The triangular Tube packaging is useful for shipping those documents that do not need to be folded. These documents can be rolled instead, and inserted into the tube. The tube packaging requires export documentation if the shipment is international. Otherwise, it can also be shipped domestically or in the areas within free circulation.
The dimensions of tube packaging are about 38″x 6″ x 6″, with no weight limits. Further, no order details or increment quantity is available in the case of the tube packaging.
Some business cases which are associated with tube packaging are listed below:
The hassle of shipping valuable paintings and other pieces of art is nothing less than a nightmare for the owners of online art galleries. While some of the paintings can be very valuable and delicate, and can not be folded or packed in the UPS Letter that we discussed above.
In that case, rolling the paintings and shipping them across the globe seems the most appropriate option. In this way, more than one item can be shipped in one package as it does not take much space too.
---
UPS 10kg Box
The UPS 10kg box is very useful for Worldwide Express delivery using UPS. It is used to parcel documents across the countries and as the name suggests it can contain a package weighing not more than 10kg. Since this is an internationally shipped delivery box, it is mandatory to include export documentation with it. Moreover, the charges are calculated based on the flat rate and the shipping zone.
UPS Box Size for 10kg box: 16″ x 13″ x 10″
Weight limit: 10kg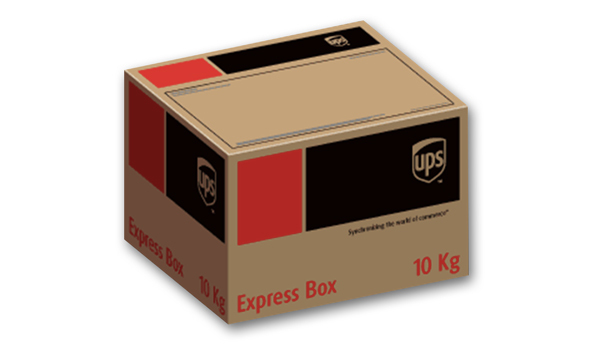 Besides, the order should contain a minimum of 2 such 10kg UPS boxes and the same goes for the increment. But the orders containing more than 5 boxes may have different increments.
Now let's see where you can use these boxes based on your business needs:
Shipping something like stationery items can't always be achieved through the above-mentioned packages. Especially when it involves heavy items such as books or magazines. Moreover, these items need a more durable package than just a paper and plastic covering.
Packing stationery items in the 10kg UPS box makes more sense as stationery items such as books, notebooks, paper sheets, magazines, etc. can be shipped in one go. And that too at a cheaper price and much more durable packaging.
---
UPS 25kg Box
UPS shipping also provides a bigger option to deliver orders to customers. The 25kg shipping package is suitable for those orders which exceed the minimum limit of a 10 kg UPS box. And hence, instead of using two such boxes, store owners can pack the whole package in one bigger box.
Just like the 10kg Box, this one too supports Worldwide Express delivery, with export documentation mandatory. Also, the charges are based on flat rate charges and shipping zones.
UPS Box Size for 25kg box: 19″ x 17″ x 14″
Weight limit: 25kg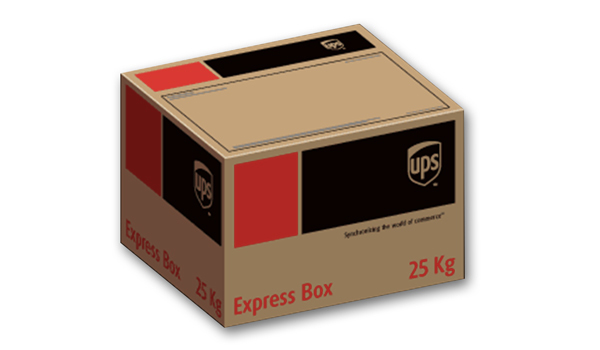 The minimum quantity based on a single order is again two boxes per order. But it may vary if the total package exceeds five such boxes.
Here are some relevant business cases where these 25kg boxes can prove helpful:
It is obvious that you have heard the name Amazon, and would have experienced their shipping. Not entirely an electronic store, but even Amazon ships its electronic products very comfortably in a box.
As the weight limit is lesser in the above option, the 25kg UPS box suits well for an online electronic store. Electronic items require more protection as well as they need packaging which supports higher weights. So they can be shipped ideally using these boxes.
---
UPS Express Box
The UPS shipping boxes also have an Express Box option for domestic as well as international delivery. The Express Box ships through Next Day Air, 2nd Day Air, and many international services.
Other than that, the Express Boxes are used for a wide range of shipping, which makes them very versatile. The shipping charges are calculated on the basis of the weight of the package or the shipping zone.
UPS Box Sizes for Express Box: There are three options available,
Large Express Box (18″ x 13″ x 2″)
Medium Express Box (16″ x 11″ x 2″)
Small Express Box (13″ x 11″ x 2″)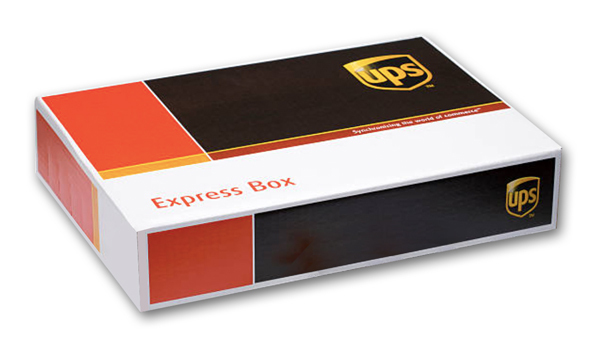 However, the weight limit is defined only on the large express box, which is 30 lbs (13 kg). Also, the minimum quantity of these boxes to be shipped is 20, for all sizes. When it comes to increments, the value remains 20 for normal increments for all three of them. But the increment value tends to vary after 40 large or medium boxes and 100 small express boxes.
The WooCommerce UPS Shipping plugin provides the following option to select either one of the express boxes based on your needs and business case.
---
---
Now you will see in which cases these boxes can prove to be helpful.
Medicine Shipping with both Domestic and International delivery
Not every online store ships just internationally or domestically. Especially in the case of shipping medicines, two things are there to be kept in focus, i. The shipping is both domestic as well as international, and ii. The batch varies in quantity.
Shipping medicines using UPS Express Box packaging serves both of these conditions. With options of large, small, and medium packages, it can cope with the quantity. And since the delivery is both domestic and international, the other condition is also satisfied. Hence it serves as the optimal option for delivery.
So this was all about the standard UPS Shipping Boxes that are present in the WooCommerce UPS Shipping plugin. Now let us try to configure a scenario using the UPS Shipping plugin where a packaging option, should be automatically selected for a customer.
---
Automatic selection of Packaging Box using the UPS Shipping Plugin
So according to the store owner, product dimensions are:
and it weighs 0.01 lbs.
Further, the store owner had all the boxes selected in the WooCommerce UPS Shipping plugin settings.
---
---
Now, based on the product dimensions, the plugin will show the customer, the prices for that UPS box, well-suited for shipping.
So let's see what happens when the customer places the order.
---
---
The customer has requested domestic shipping for their order, and as a result, all available domestic delivery options with their corresponding delivery fees are visible. The customer has selected Next Day Air (UPS) as their preferred delivery option and has placed the order accordingly. Please refer to the image below, which confirms the successful placement of the order.
---
---
The package is generated automatically as soon as the customer places their order, taking into account factors such as dimensions, weight limits, and the selected shipping service. In this particular case, we can view the package that was generated for the order by referring to the screenshot below.
---
---
As previously mentioned, the package generated for this order has dimensions of 13″ x 11″ x 2″, which indicates that the Small UPS Express Box was automatically chosen for shipping. The customer's order has dimensions of 10″ x 8″ x 1″. By utilizing the WooCommerce UPS Shipping plugin, store owners can automate the selection of packaging methods for their store.
Additionally, we discussed that if a store owner requires more flexibility in terms of packaging options, they can opt for custom boxes. This approach can significantly reduce both shipping costs and waste.
---

---
Have any additional inquiries regarding the WooCommerce UPS Shipping plugin or shipping box options? Please don't hesitate to reach out to our shipping experts. We would be more than happy to assist you!