FedEx Shipping Guide for WooCommerce Marketplace with WC Vendors
In this guide, let's see how we can use FedEx as a shipping option for a WooCommerce store with multiple vendors. To add and manage multiple vendors we will use WC Vendors plugin and WooCommerce FedEx Plugin by PluginHive for shipping. Read along.
A multi-vendor marketplace can help you a lot in generating sales and relevant traffic. But the practicality hits you when you're required to handle shipping with multiple vendors onboard. It becomes really difficult for admin to handle multiple vendor addresses and shipping accounts(UPS, FedEx, etc.,). These challenges amplify when vendors have to manage their orders, print the labels, and update the orders tracking statuses.
WooCommerce FedEx Shipping plugin comes with all the features you'd expect from an end-to-end shipping solution. It can easily streamline the shipping process on your multi-vendor store with no problem. Read along to know how WooCommerce FedEx Shipping plugin works together with WC Vendors to provide a great multi-vendor shipping experience.
WooCommerce FedEx Shipping Plugin:
WooCommerce FedEx Shipping Plugin for your multiple vendor WooCommerce stores can automate order fulfillment completely. With this plugin, you can display carrier calculated live rates on your cart/checkout page and you can print shipping label within WooCommerce. Also, customers will receive tracking updates automatically update on their orders.
WC Vendors Plugin:
WC Vendors, as you know, is a good option for WooCommerce users looking to achieve multi-vendor scenario. It has a few good features that allow you to create products coupons, view reports, configure shipping rates, etc.,
Advanced Shipping For WooCommerce Multi-Vendor Plugin:
This free add-on connects WC vendors with FedEx shipping plugin and lets vendors add there FedEx account details. Also, you can set how the shipping rates of vendors calculated and displayed on a cart page. Advance shipping for WooCommerce Multi-Vendor plugin has two options – Split and sum, and Split and separate. We will explore these features later.
Setting up vendors on your WooCommerce
Download the WC Vendor plugin and install it on our WooCommerce store. After installing the plugin activate it, the plugin then guides you through the setup process and allows you to configure on the way.
You can set up the rules for vendors and other settings WooCommerce Dashboard > WC Vendors > Settings. Here you have multiple settings that you would need to choose and configure. You can set the commission percentage, set up withdrawal methods, etc.,
How to Add vendors?
You can add a new user on WordPress and assign him the role of Vendor or vendors can register from the frontend of your website.
Adding vendors from WordPress Backend
On WordPress Dashboard go to WooCommerce > Users > Add New. Add the user and assign them the role of the vendor as shown on the image below:
Register from Website
Or Vendors can sign up as the vendor on your website. They have to go to the My Account page and Apply to become a Vendor?
How to Configure Vendors' Addresses?
Vendors need to enter there Warehouse Addresses. Real-time rates will be calculated based on this address also FedEx will visit his address for the pickup. Vendors can add these details on My Account > Addresses > Shipping address.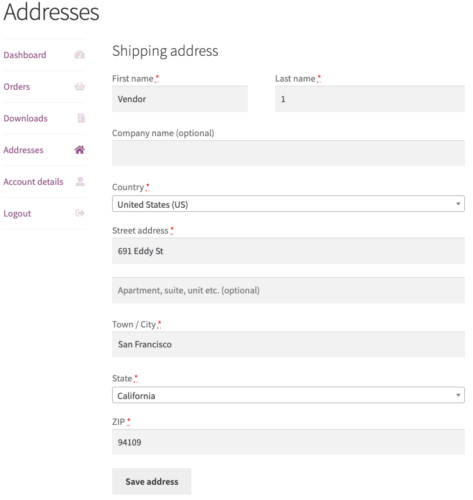 How can Vendors add and manage the product?
To add and manage the products go to WordPress backend (store URL /wp-admin) WordPress backend > Products > All Products. Here you can see all your products and also Add New Product as shown in the image.
Now you can install the Multi-Vendor Ad-On.
Install the Advanced Shipping for WooCommerce Multi-Vendor plugin
Now let us see how to install Advanced Shipping For WooCommerce Multi-Vendor Plugin. This addon will let vendors add their FedEx account details.
Vendor's FedEx Account Details.
Go to Vendors Dashboard > Edit Account Details now scroll down to FedEx Account Details.
Display FedEx Shipping Rates on the Cart/Checkout
To Display shipping rates on a cart, you will have two options Split and sum, and Split and separate options in the plugin settings page. For these settings go to WooCommerce > Settings > PlugiHive Multi-Vendor.

When you select Split and Sum option, you will see the sum of FedEx shipping rate of both vendors. If you choose a Split and separate option then the prices would be shown separately. You can refer the following image to see how it looks on the Cart page.
| | |
| --- | --- |
| Split and Sum | |
| | |
Above image shows the real-time shipping rates from both the vendors in two different ways, you can also refer to this article that explains more about this plugin.
Setting up FedEx Shipping on your WooCommerce
After the WC vendor plugin setup is then, you can now set up the WooCommerce FedEx shipping plugin. To set up the plugin you need to enter the FedEx credentials, your address, choose the packing method, enable shipment tracking feature, etc.
To know more about FedEx setup you read the documentation on Setting Up WooCommerce FedEx Shipping Plugin.
Now for multi-vendor shipping, we need to change these two settings within FedEx plugin.
 Change Ship From Address Preference to Vendor Address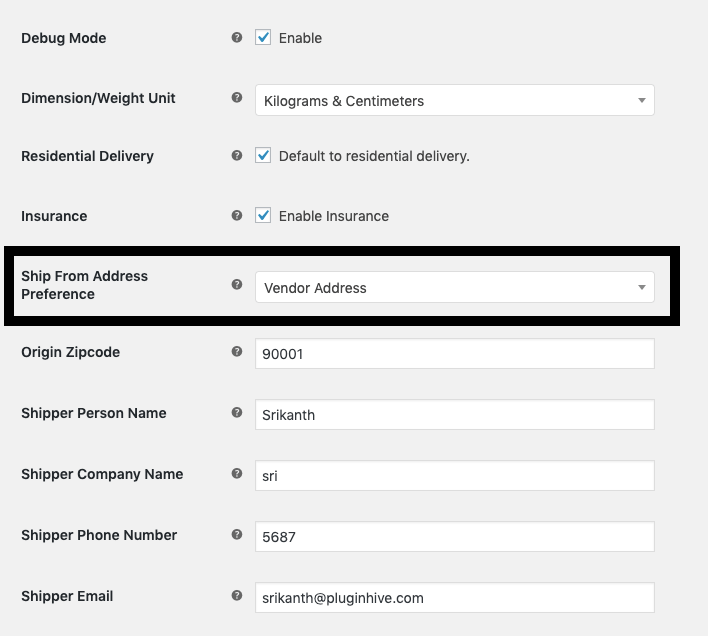 2. Now For Send Shipping Label To Add Vendor here.

Order Fulfillment using FedEx
Add two products from two different vendors into your cart page. You can see the FedEx shipping services with the live rates.
The Real-time rates on a cart page are calculated by the FedEx and returned to a cart page, then the advance multi-vendor plugin adds the shipping rates of both the plugins.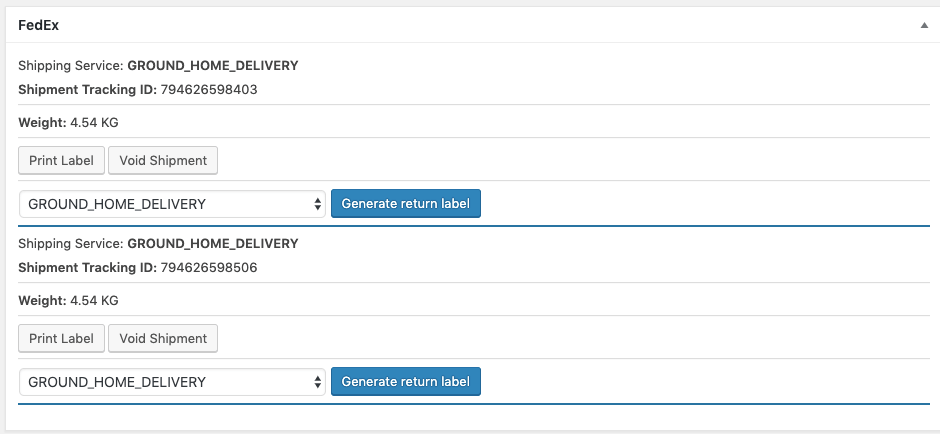 Vendor's FedEx Label via Email
Once Store Admin prints the shipping labels, vendors will receive the email which will contain a Download link for FedEx Label.
Vendor 1:
Download the label from the email: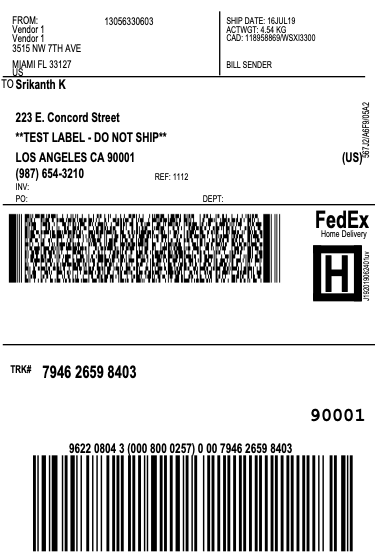 Vendor 2:
Download the label from the email:
Conclusion:
The WooCommerce FedEx Shipping plugin can help you achieve almost all multivendor business ideas. It provides a lot of advantages and benefits of the online model without any hassle. This article has acquainted you with some of the efficient WooCommerce marketplace solutions. These include a range of plugins and themes designed to produce optimum results for a marketplace model.
These plugins together will give a seamless shipping experience for multiple vendors marketplace WooCommerce stores. This article we have shown you how to set up a multi-vendor store, also how you can fulfill the orders when customer orders from Multiple Vendors.
For any assistance on the setup of FedEx shipping, you can Contact PluginHive Customer Support. We will be happy to help you out.
Good luck! 😊