Set Estimated Delivery Dates for Different WooCommerce Shipping Zones
Showing estimated delivery dates to your customers is a very good approach to increase the credibility for your WooCommerce store. The Estimated Delivery Date is an amazing plugin that lets you do that. Furthermore, it facilitates the choice to offer different estimated delivery dates for different shipping zones. This feature can prove to be quite useful for you in many business scenarios.
However, some of our customers, upon purchasing this plugin, cannot figure out how to do that. Let us look at one of the real-life examples.
Hugo: I have a question about this plugin. Is it possible to automatically present the possible delivery date, depending on the zone where the order will be sent? Imagine the following scenario – I have an order for Zone 2 (Europe) and the estimated delivery time for this zone is 5 days. I placed the order today 02-11-2017, this plugin automatically presents the calculation for the estimated date of delivery that in this example would be 07-11-2017? Does this plugin calculate it by itself?
This issue has a very simple solution to it. For the sake of better understanding, let us take three zones – United States (US), India and Europe. Now in order to add the estimated delivery date to these shipping zones, you have to go to the Shipping Zone option under the plugin setting page.
As you can see in the image above, we have assigned all three shipping zones and provided the delivery days to each of them. Thus, for deliveries within the US, we have assigned 2 as the number of delivery days.
Note: It should be noted that the total number of delivery days is calculated by adding the Minimum Delivery Days and the Shipping Zone values. For example, if the minimum delivery days is 1 and the value in the shipping zone is 2, then the overall estimated shipping days will be 3 (1+2). Similarly, for India – 8 days and for Europe – 6 days. You can set the minimum delivery days in the General Settings option.
Now that you have assigned the estimated delivery days, your customers would be able to see the respective numbers based on their locations. To further see how this shows up in the Cart, let us assume that an order was placed on the 17th of November and have a look at all three conditions.
Use the following calendar for reference.
For the United States (US),
For Europe,
And finally for India,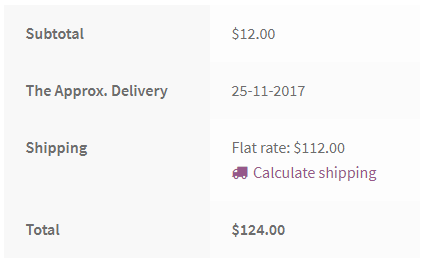 We hope this article was useful to you in some way. Let us know in the comment section below. If you have further queries feel free to contact our customer support.