Print FedEx Shipping Labels using Zebra Thermal Printers
When it comes to printing FedEx shipping labels, nothing matches the quality and durability of the labels generated by thermal printers. There are a variety of thermal printers available that can range from low to high cost. One of the widely-used thermal printers is the Zebra thermal printer. They are cheap to buy and the maintenance cost is quite low as well.
There are many ways you could print FedEx shipping labels using a Zebra thermal printer, especially, if you're an online store owner. You have the WooCommerce shipping plugin for FedEx for WooCommerce, and Shopify Ship, Rate and Track for FedEx, for the Shopify platform.
With these solutions, you can print FedEx shipping labels in various sizes. Furthermore, you can even choose the ZPLII and EPL2 formats, which are supported by Zebra thermal printers.
In this guide, we'll tell you how to print shipping labels using Zebra Thermal Printers in both WooCommerce and Shopify. So without any further delay, let's begin.
---
How do Zebra thermal printers work?
Thermal printers, in general, are much quieter than your usual Dot-Matrix or Laser printers. Zebra printers are much more advanced, smaller in size, and lighter than the old thermal printers. These are the reasons why many store owners prefer using them to print shipping labels.
Thermal printers understand the programming language called EPL (Eltron Programming Language). Zebra thermal printers, on the other hand, understand both EPL and ZPL (Zebra Programming Language). Currently, there are four major types of formats – EPL, EPL2, ZPL, and ZPLII.
EPL2 is the older version of ZPLII, and Zebra printers can print both EPL2 and the ZPLII formats. The ZPL/EPL format is best supported by the label with a size of 4 x 6 inches. This results in better label design and clarity in the barcodes on the label.
---
How to print FedEx shipping labels in ZPLII from your WooCommerce store?
To help you understand the process better, let us take the example of one of our customers.
Customer: We would like to check if the label printing feature of your plugin works with FedEx label printer (zebra). Could you help confirm this as it is a very important factor that decides if we could use your plugin for our client's website or not?
You can choose from the list of label formats. To activate the ZPLII/EPL2 formats in the WooCommerce shipping plugin for FedEx, you would have to go to the FedEx plugin settings page. Thereafter, you will have to go to the Label Generation section where you would find the following settings.
Here, in the drop-down menus, you can choose the STOCK_4x6(For Thermal Printer Only) in the Print Label Size and the ZPLII in the Image Type. Refer to the image shown above.
Now, as soon as you print the shipping label on the Edit Order page, a ZPL extension file would be downloaded. You can print that file in order to get the shipping label. It would look something like in the following sample image.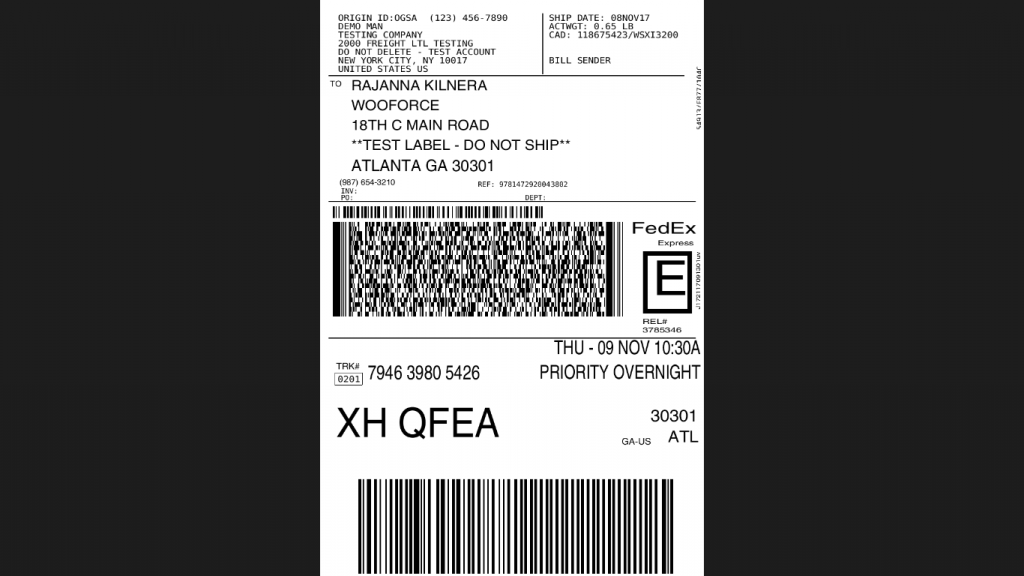 ---
How to print FedEx shipping labels in ZPLII from your Shopify store?
The Shopify App for FedEx is a brilliant FedEx shipping solution for Shopify users. To let the App download the FedEx shipping labels in ZPLII format, you will have to define it under the App Settings.

As you can see, you can choose the Label Size as well as the Image type (in this case, ZPLII). This way you don't have to always change the format. And once you click on the Auto-Generate Label option, the shipping labels would be generated automatically.
To know more about the Shopify App for FedEx, check out its product page. You have many amazing features like real-time FedEx shipping estimate, bulk label generation, FedEx shipment tracking, and much more!
---
Conclusion
This article showed you how the Zebra thermal printers work and the correct label size and formats that should be used. We hope this guide would have helped you set up ZPL printing on your online store.
Do tell us in the comment section below how you feel about this guide. If you have any queries regarding this article or need any help with the WooCommerce shipping plugin for FedEx or Shopify App for FedEx, feel free to contact us.
Happy selling!