WooCommerce Bookings- Shipping Rented Items Via FedEx
Online rental and booking websites provide a cheaper option to use products rather than spending a fortune and buying the same. In the process of providing rented items, the store owners need to make sure the product reaches the customers on the same day they have booked it. Also, arranging a return is one more challenge such websites have to face on a daily basis. In this article, we will check out a unique but simple way to provide online booking on products and at the same time make sure the process of shipping such products goes on smoothly.
To help you understand better, let's discuss a business case that involves shipping of online rented products.
Scott's Online Rental Store
Scott owns an online rental store based in Michigan, US. He requires daily shipping of his products which include party equipment, dresses for occasions like marriages, electronic systems for parties, etc. Apart from that, the products that he rents have different rental periods. Hence, he requires a solution which can help him manage his bookings for different periods. Besides, he requires a reliable and robust shipping solution which will allow him to ship his products to his customers and even help them ship the products back.
---
A Versatile WooCommerce Booking Solution
In Scott's attempt to provide online rentals for his products, he would require a plugin with advanced booking features, such as WooCommerce Bookings & Appointments plugin, which is one of the best WooCommerce booking plugins.
Here are some of the highlighting features of the WooCommerce Bookings & Appointments plugin.
Provide Booking for WooCommerce Products
Choose Booking Period or Range in Calendar
Different Booking Availability Options
Set Booking Cost
Set Booking Participants and Resources
Booking Management from the Backend
---
Setting Up Booking Periods
As discussed earlier, the booking period of a product can vary from a daily, weekly, hourly, and even monthly basis. In the case of Scott, he provides mini projectors for parties on a daily rental. His customer can book the product based on its availability of the product. WooCommerce Booking & Appointment provides an easy way to set things up for Scott. Take a look at the image below.
---
The image shows the booking settings and the booking period for the projectors. As you see clearly, Scott can set the booking period based on the number of days. This will allow the customers to choose the number of days they want to book the product, as shown in the image below.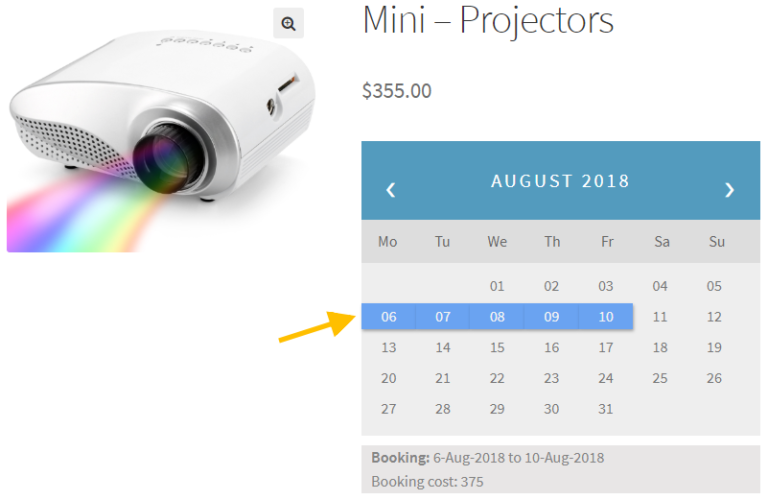 ---
Setting Up Booking Availability
Now, regarding the availability, the Maximum Booking Allowed Per Slot option limits the number of bookings that will be allowed per day (in Scott's case). However, you can even provide different availability rules to limit the booking of different products. Consider the image below.
---
The image shows the booking of the products being restricted to a specific date and even on weekends. The plugin provides flexibility in selecting the booking availability by allowing you to choose from custom dates, a range of days, or a particular time interval on a recurring day as shown in the image below.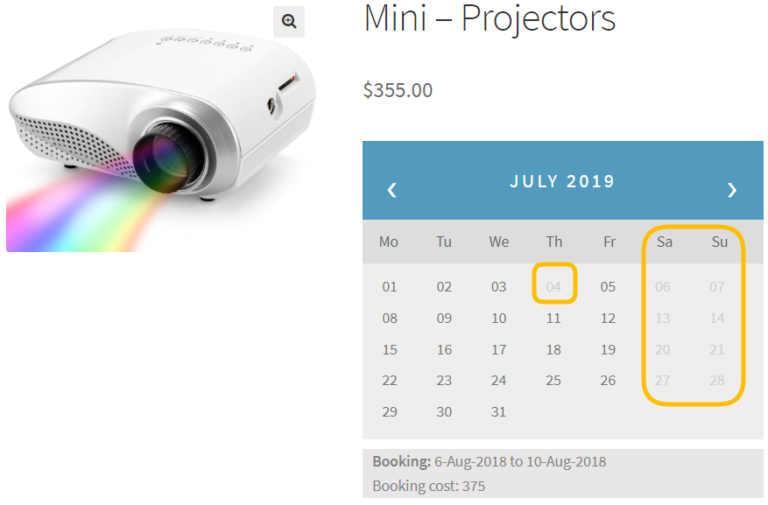 ---
Setting Up Bookings Cost
Similar to booking availability, you can even set the booking cost. Using this plugin you can create custom booking cost calculation rules for every product. Scott here provides the projectors for a fixed booking cost of $350, and on top of that, he charges a $15 per day booking fee. However, based on special occasions like Christmas, etc. Scott also provides a booking discount of $85 on the fixed booking cost and a $5 off on per day booking fee. So, as you can see in the image below, the plugin allows Scott to set up his booking cost without breaking a sweat.
---
Now, with the booking set up completely, the next big thing would be a reliable shipping solution, capable enough to provide automated shipping along with a way to handle return shipments.
---
Automated Shipping Via FedEx
WooCommerce FedEx Shipping Plugin is the best shipping plugin that supports complete automation when it comes to shipping your products, creating shipping labels, and tracking those shipments. Not only this, the plugin also provides a way to handle return shipments by generating and sending a return shipping label to the customers. This way the customers can easily ship the rented product back to the store owner.
---
Setting Up Shipping for Rented Products
FedEx is one of the world's best shipping carriers and provides domestic as well as international shipping without hassle. WooCommerce Shipping plugin for FedEx provides all the perks that FedEx offers to store owners like Scott. All he needs to do is configure the plugin and enable the Real-Time Rates option in the plugin settings. This will allow Scott to display real-time shipping rates to his customers. Hence, once the customers place a booking on Scott's website, they will be able to select from various FedEx shipping services and place the booking successfully.
---
Apart from that, Scott needs to enable the settings shown in the image below. These settings will automate the whole process of generating packages and shipping labels for his orders. He can select any default FedEx shipping service for generating shipping labels.

---
Once the customer selects the shipping services and places a booking, the shipping label will be generated along with the tracking details for the package. Also, Scott will be able to generate a Return Shipping Label for his orders. The shipping label can even be provided to the customers via email. Besides shipping labels, customers will also receive the Order Completion Email that will include the tracking ID for the products.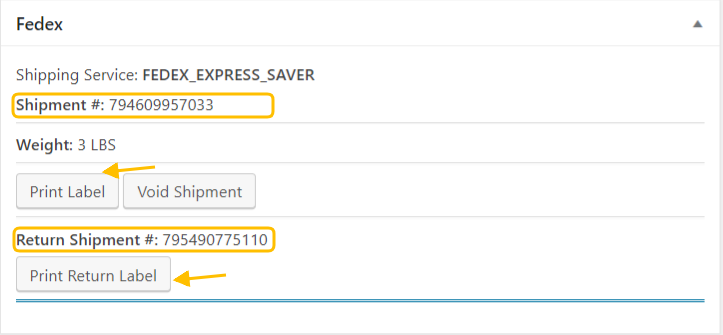 ---
Final Words…
There are a lot of WooCommerce store owners like Scott who require a complete shipping solution for their online booking stores. That being said, different E-commerce stores may have different needs and those needs may not be fulfilled by a single plugin. So instead of having a temporary workaround, a dedicated and efficient business solution is needed.
This WooCommerce Bookings plugin is a versatile plugin that supports vast functionality in terms of online booking. Besides, combined with the advanced shipping plugin like the WooCommerce Shipping plugin for FedEx, the setup becomes more complete than it can ever be. You can check out some more amazing features that these plugins support by visiting the respective product pages mentioned in the section below.
---
About the plugins…
WooCommerce Bookings & Appointment Plugin
The plugin provides a simplistic way of setting up and selling bookable products. WooCommerce Bookings & Appointments Plugin allows you to provide a booking period for a product. Along with that, the plugin provides advanced booking cost calculation, booking availability, additional participants and resources, and much more.
For more details check out WoCommerce Bookings & Appointments plugin 
---
WooCommerce Shipping Plugin for FedEx
This plugin is the best that there is among the shipping plugins. It provides real-time FedEx shipping rates and automates these rates onto your website. This way the customers get accurate shipping rates to various shipping services across the globe. From shipping rates to shipping labels, this plugin automates the whole shipping process. And as a bonus, the plugin helps you in tracking the package once it is shipped. For more details check out WooCommerce Shipping plugin for FedEx.