WooCommerce FedEx Shipping – Choose the Warehouse based on Destination
In this article, we will be discussing how to choose the warehouse based on the destination when using our WooCommerce FedEx Shipping Plugin with Print Label. This guide should really help you with that.
When you sell pan country or internationally, it is quite common to maintain your inventory in multiple warehouses at different locations. This way, based on the shipping destination, you can choose from which warehouse to ship. This should provide better control to store owners in financial and operational aspects.
Maintaining Multiple Warehouses – A Challenge in WooCommerce
A customer approached us recently with a problem regarding multiple warehouses. He owns a bookstore and wants to sell his books in Canada and within the US using FedEx. The only constraint for him is that he has two different warehouses from where he wants to ship them.
Case 1: If the destination is Canada, his shipments need to go through his warehouse in Atlanta. This is because he uses a different quality of paper for books for international customers which are only available in the Atlanta Printing press.
Case 2: If the destination is within the USA, his shipments need to go through his warehouse in Los Angeles. In this warehouse, he prints books in mass.
No out-of-the-box solutions
Initially, when he approached us, we didn't have an out-of-the-box solution. XAdapter FedEx plugin could not handle multiple shipments from locations and the second problem required a little more tweak in that fact that it had to be handled based on destinations.
Providing a solution in the existing body of the plugin would have been a bad idea as it was a custom requirement and not many people would use this feature. A code snippet is also not a good idea as it requires the code to be updated everytime WooCommerce is updated. Also, the shop owner needs to tech-savvy for this.
WooCommerce FedEx Shipping Add-on – A Golden Solution to Multiple Warehouses!
After some discussion, we decided to tackle this problem through an add-on (Click here to download the Multiple Warehouse add-on). Using this add-on, you can define multiple ship-from locations based on the destination country as shown in the screenshot:

Once the shop owner configures this, he is all set. For any order made for destination Canada, the label shows the origin location as the Georgia warehouse address: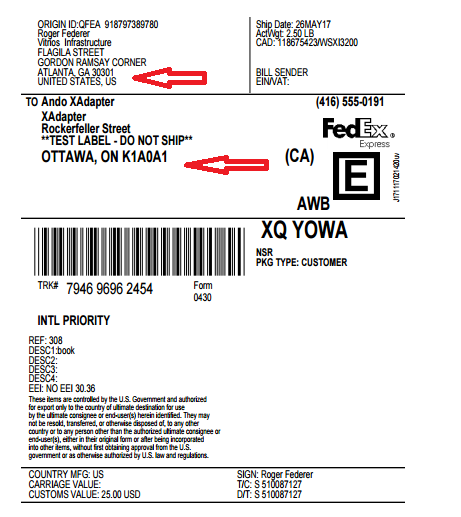 Similarly, for any order within the USA, the label shows the address of the Los Angeles warehouse: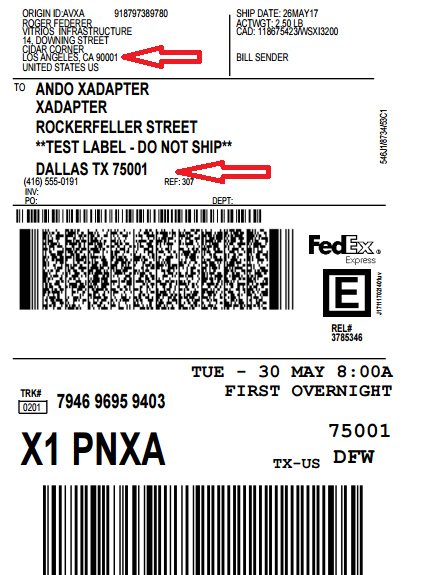 So as we can see, the process of allocating warehouses based on the destination just got simpler! Check out our WooCommerce FedEx Plugin for seamless shipping fulfillment.