How to Print WooCommerce FedEx Shipping Labels: Guide
With this article, we'll explore the FedEx label printing process and different ways to print labels using the WooCommerce Shipping plugin for FedEx. Read along to know more.
---
FedEx Label Printing in WooCommerce
A FedEx shipping label contains vital information including the source and destination addresses, shipment details, service name, and necessary barcodes and numbers for tracking purposes.
It allows FedEx agents to fulfill your shipments and use the information stored on it at every checkpoint for a faster fulfillment process. These labels are generally attached along with the package and thus, you require a compatible label printer.
With the help of the WooCommerce FedEx Shipping plugin you can too print FedEx shipping labels from your WooCommerce store. You can directly print FedEx shipping labels right from your website and attach them to their appropriate packages.
With this plugin, you could print both forward and return shipment labels in various different sizes, formats, and types. Let's take a deeper look into the various FedEx label printing options.
---
Automatic FedEx Label Printing for Multiple WooCommerce Shipments
By using the WooCommerce FedEx Shipping plugin, you can automate the label printing process as soon as an order is received. If you wish to go manual and print the shipping labels based on the specifications of your printer, this plugin will allow you to do so.
---
---
This FedEx Shipping plugin can be easily integrated with your WooCommerce. This means all of your products, store information, and orders are automatically synced.
Now once you confirm a FedEx shipment for your WooCommerce order, you should be able to print the labels using the Print label option indicated in the sample image below.
---

---
Here's a sample FedEx shipping label for you to check out.
---
---
If you would like to know more about the automatic FedEx label generation and printing, have a look at this detailed video that shows the complete process.
---
---
How to Generate FedEx Return Labels for your WooCommerce orders?
With the WooCommerce Fedex shipping plugin with print Label installed on your WooCommerce, you can directly print the shipping labels from the Edit Order page. But you can also generate FedEx Return Label for the same orders if the situation arrives. You can learn more about FedEx Return labels to know more about it.
In the screenshot below, you can see the option to Generate a return label next to the FedEx service drop-down. Here you have the chance to choose the service if your customers request you to change.
---

---
A FedEx return label looks and works exactly as a FedEx forward label but with the addresses swapped. Here's the corresponding return FedEx Shipping label for the shipping label displayed in the above section.
---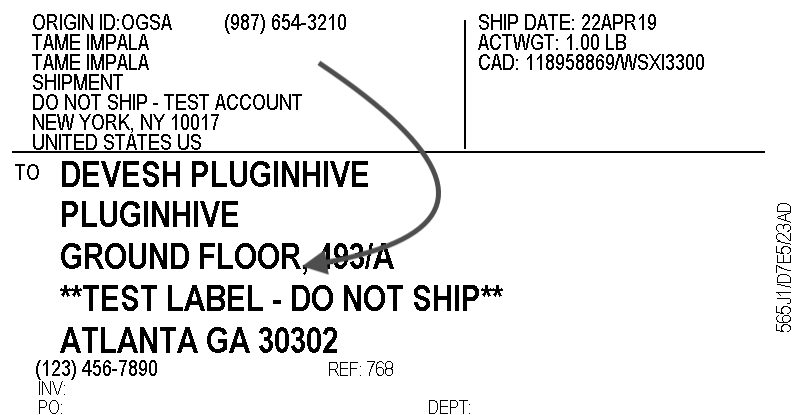 ---
If generating return labels feel like a lot of work, then you can also allow your customers to print the return labels directly from their My Account page. You can check out the following video that shows how this plugin allows customers to print the return shipping label:
---
---
Selecting the FedEx Shipping Label Size and File Format within WooCommerce
You can even download the label according to the choice of Image type. You can choose the appropriate image format based on your choice and this option is present in FedEx's settings under the Shipping option of the WooCommerce settings. Following are the image format options that you can choose from:
---

---
The WooCommerce FedEx Shipping plugin also supports printing labels in different sizes according to your specific requirements. Below are the available options:
---

---
You can learn more about the various FedEx label sizes and image types in detail to know more about them.
---
Sharing FedEx Shipping Labels with Your WooCommerce Customers
The WooCommerce FedEx shipping plugin allows store owners to print the shipping label and send it to their customers. If required, you can even change the ship from address so the shipment will begin from your customer's address. This usually helps in businesses that deal in product service and requires the customers to send the product back to the store.
---

---
Now, if you need to send the FedEx shipping label to your customer via email, you need to prepare the plugin accordingly. In the sample screenshot below, you have the option called Send Shipping Label To that essentially lets you share the labels once the shipment is confirmed.
---
---
You also have the option to let your customers download and print the FedEx shipping label from their My Account page. This page is usually accessible to customers who have purchased at least one item from your store.
---
How to print FedEx shipping labels in Shopify?
Shopify has it all in terms of easy setup, with a handy dashboard area for quickly adding products, customizing the look of your site, and setting up Shopify shipping. It's great because Shopify asks you if you plan on moving from another platform during the signup process. The system then provides a link for importing products from your previous store.
By using Shopify Shipping App for FedEx, you can generate and print FedEx shipping labels directly from your Shopify store. The process is almost automated and you can manage to finish the complete process in under one minute.
In addition to the label printing feature, the Shopify FedEx shipping App has a lot under its sleeves. With this App, you can display live FedEx shipping estimates, schedule FedEx pickup, adjust shipping prices, enable order/shipment tracking, and much more.
---
Printing FedEx shipping labels in Shopify
You can print shipping labels in various different sizes, formats, and image types. Under the Labels option, you can find the Print Label Size and Image Type drop-downs that allow you to opt for the right shipping labels.
For instance, to print labels off Zebra thermal printers, you need either ZPLII or EPLII formats in order to print the labels. Here's an article talking about printing FedEx shipping labels via Zebra thermal printers in detail. Check it out to know more about it.
Once an order is placed in your store, you can access it from the Orders section as shown below. You can fulfill the order by clicking on the Auto-Generate Label option which basically completes the entire shipment-creation process. After that, the App sends the necessary information to FedEx APIs to generate the shipping labels.
Once everything is confirmed and validated by FedEx, they will deliver the shipping label directly to the App. You can hover down to the Apps section where you will the FedEx App. Once you enter the App, you should be able to see the following option with Track Order and Download Label.
---
---
Once you do that, you should be able to download the shipping labels as shown in the image above. Please mind that the shipping labels would be downloaded based on the type of image format you've selected and cannot be changed once done. Here's a sample FedEx shipping label generated in PNG format.
To know more about the Shopify FedEx App, check out its product page.
---
Conclusion
Selling products online is no longer a chore. With so many options to choose from, store owners no longer have to sit back and manage their stores all day long. With solutions like the WooCommerce shipping plugin for FedEx and Shopify Shipping App for FedEx, FedEx shipping has become much easier.
We hope that this article would have helped you understand FedEx shipping on your online store. Do contact us if you have any issues regarding this article or need help setting up FedEx shipping on your store.
Happy selling!