How to Ship Frozen Items with Dry Ice via FedEx

Every online store sells different kinds of products. So each one of them should have a different shipping strategy. Following the same concept, if you're looking to ship frozen items then you need to come up with a unique shipping strategy. Items such as medicines, food items, or a few non-hazardous chemicals, fall under this category. Perishable items are required to be shipped with dry ice as a refrigerant.
In this guide, we will show you how to properly prepare your frozen items for shipment. We will show you how the WooCommerce Shipping Plugin for FedEx with Print Label and Shopify Ship, Rate and Track for FedEx can help you ship frozen items. 
---
Why shipping with Dry Ice is considered difficult
Shipping with dry ice is one of the reasons why many shipping carriers charge extra. But the problem doesn't end here. Most store owners aren't aware of the shipping process that involves dry ice. Dry ice shipping through FedEx is allowed only for a few shipping services. It is also considered a dangerous and hazardous material, which puts a store owner in a much more difficult situation.
However, following the right set of procedures will make the shipping process more straightforward and much easier. You can further save the extra charges spent on shipping by following the right steps to ship the frozen items.
---
What is the best way to prepare your package and ship frozen items?
Dry Ice is the solid form of carbon dioxide. The good thing about using dry ice is that it has a lower temperature than that water ice. It acts as the cooling agent when you want to ship items that are sensitive to heat. Moreover, it does not leave any residue which is the most important part of shipping consumable and delicate frozen items.
Packing and preparing your shipments
There are a few packaging methods that are necessary to do before shipping your perishable items. FedEx has recommended the following packing procedure for packing perishable items with dry ice.
You must ensure that your packaging allows the release of pressure from within the package. This is because the dry ice releases carbon dioxide gas which can build up enough space to rupture the packaging. For example, you should not use steel drums or jerricans as outer packaging. You should also not place dry ice in sealed plastic bags.

You should use good quality fiberboard corrugated cardboard), plastic, or wooden boxes.

A layer of Styrofoam within a box works well as insulation. So, please ensure that the styrofoam is not sealed to be airtight.

The styrofoam must not be used as outer packaging unless it has been pre-approved by FedEx Packaging Services. The maximum amount of dry ice per package is

200 kg

.
Now, you need to wrap the frozen item with plastic wrap prior to packing. You want to make sure that the frozen item and the dry ice are tightly packed. You can make use of the newspaper in order to make sure that everything is packed together. Doing this will provide extra insulation which will, in turn, keep your perishables and frozen food fresh.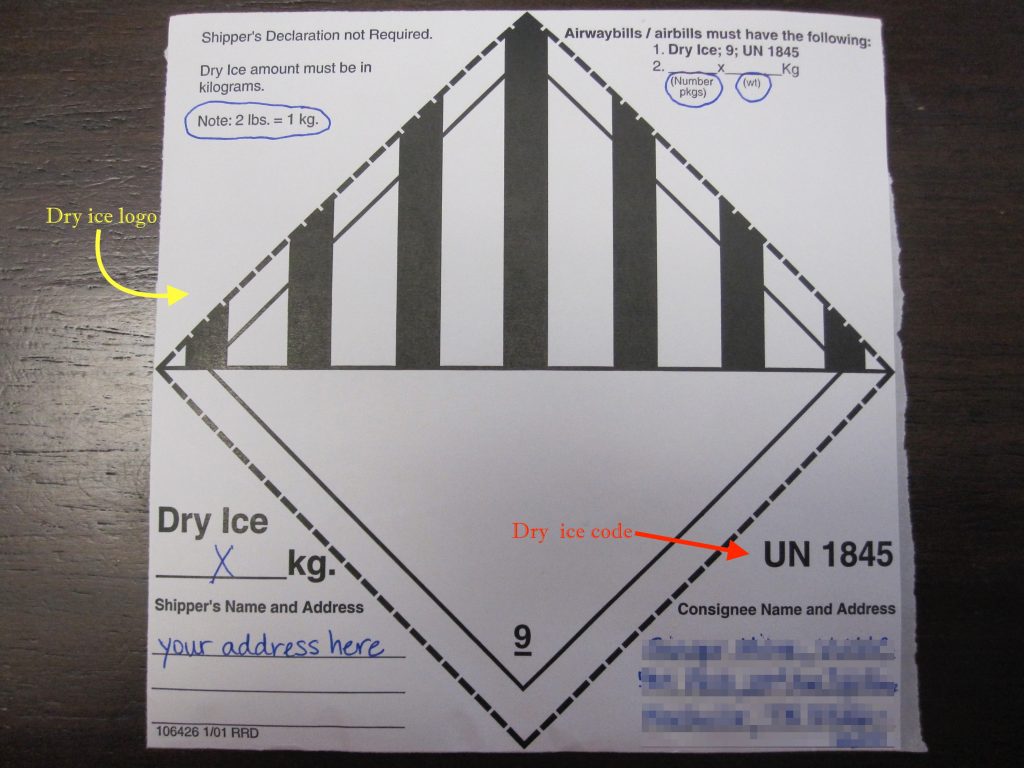 Another important thing to note is that you have to signify that your parcel says that the shipment contains dry ice. If you look at the image shown above, you would notice that the shipment package has a label that says UN 1845. This code is necessary as per the International Air Transport Association (IATA) dangerous goods regulations. You have to mention the following markings on the outer packaging of all IATA dry ice shipments:
1."Dry Ice" or "Carbon Dioxide Solid" along with the code UN 1845 should be present.
Net weight of dry ice should be displayed in kilograms.

Name and address of the shipper and recipient should be clearly mentioned on the outer box area.
---
You can further refer to this article to know about the packing process in detail.
---
How to Use WooCommerce Shipping Plugin for FedEx with Print Label to ship frozen items
By using the WooCommerce Shipping Plugin for FedEx with Print Label you can easily define and select the dry ice service. This plugin lets you add dry ice service to the products individually. Meaning, you can select the products that you would want to ship along with dry ice and the products that do not require dry ice. In the video shown below, we have defined a product and had requested the dry ice service for that particular product.
As you can see in the video, the debug request of the order says that the product is requesting to be shipped with dry ice. Moreover, the weight of the product is shown in kgs which proves the point mentioned above.
This clearly states that the shipment is compliant with the IATA rules and regulations. You just need to print the shipping labels and then further attach the UN 1845 declaration on the package.
Another important thing to note is that the label should contain the ASR(Adult Signature Required) term. This signifies that the package requires an adult signature. You can refer to the following video to see how it is done.
---
How to use Shopify Ship, Rate, and Track for FedEx to ship frozen items
The Shopify FedEx App offers complete FedEx shipping facilities. It's an end-to-end solution for your Shopify-based store which allows you to show FedEx shipping estimate on your Checkout page.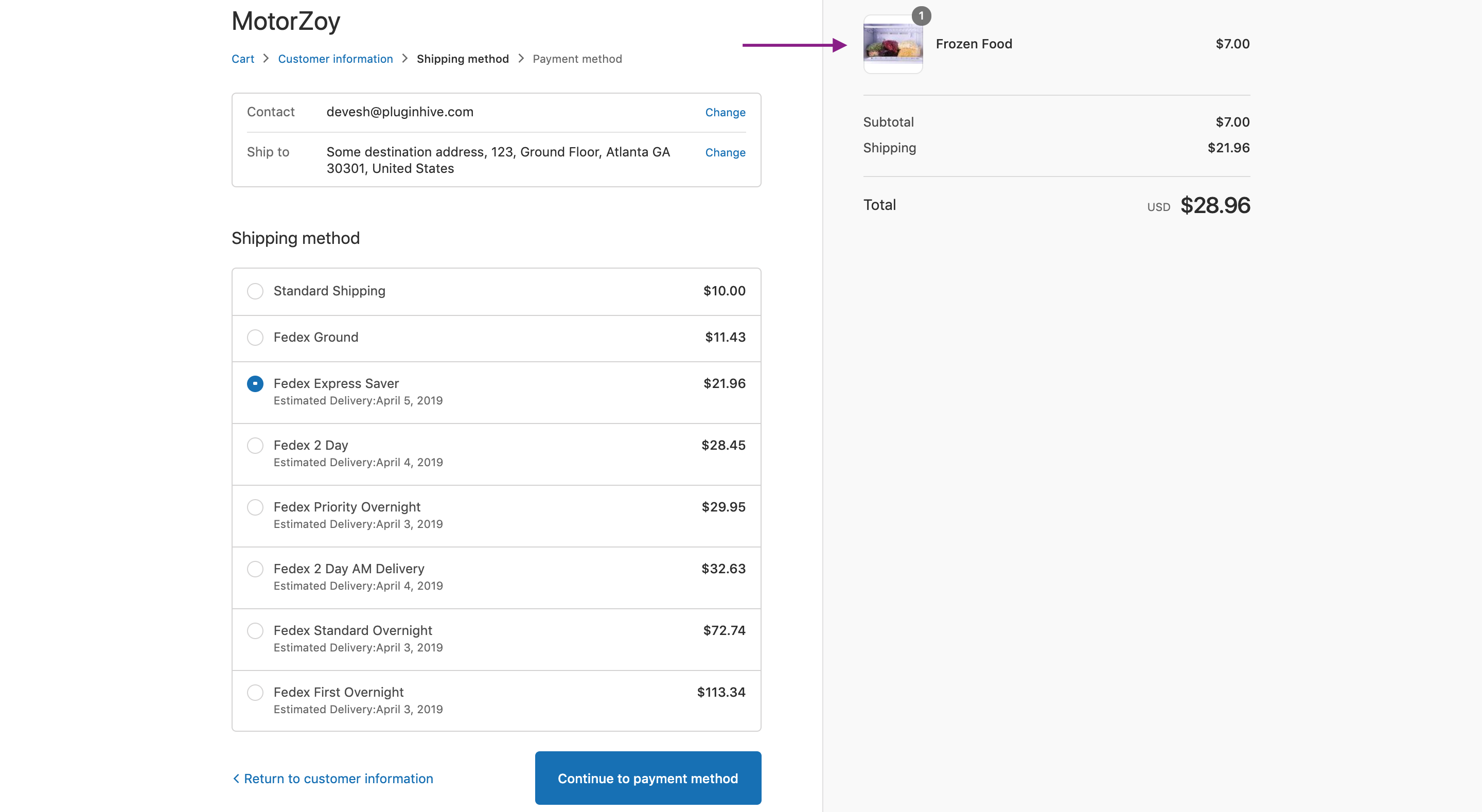 You can mention if your product requires dry ice or not. For that, you can enable the Dry Ice option shown in the image below. As mentioned before, you have to define the quantity of the Dry Ice. The App allows you to do that.

Now based on your product weight and dimensions, and shipping destination, this App fetches postage rates from your FedEx account for your shipment. The Shopify Ship, Rate and Track for FedEx generates shipping labels as soon as the customer completes an order on your Shopify store. This shipping label will contain the necessary information regarding dry ice.
The App sends shipment details to your FedEx online account and generates the shipping label (PDF or PNG). Once you click on the Auto-Generate label option, the App shows you the place where you can download the label.
Upon clicking the Download Label option, the App will download the shipping label. Keep in mind that the postage for this order is automatically paid on these labels using your FedEx account. Have a look at the following screenshot of a sample FedEx Shipping label containing the dry ice.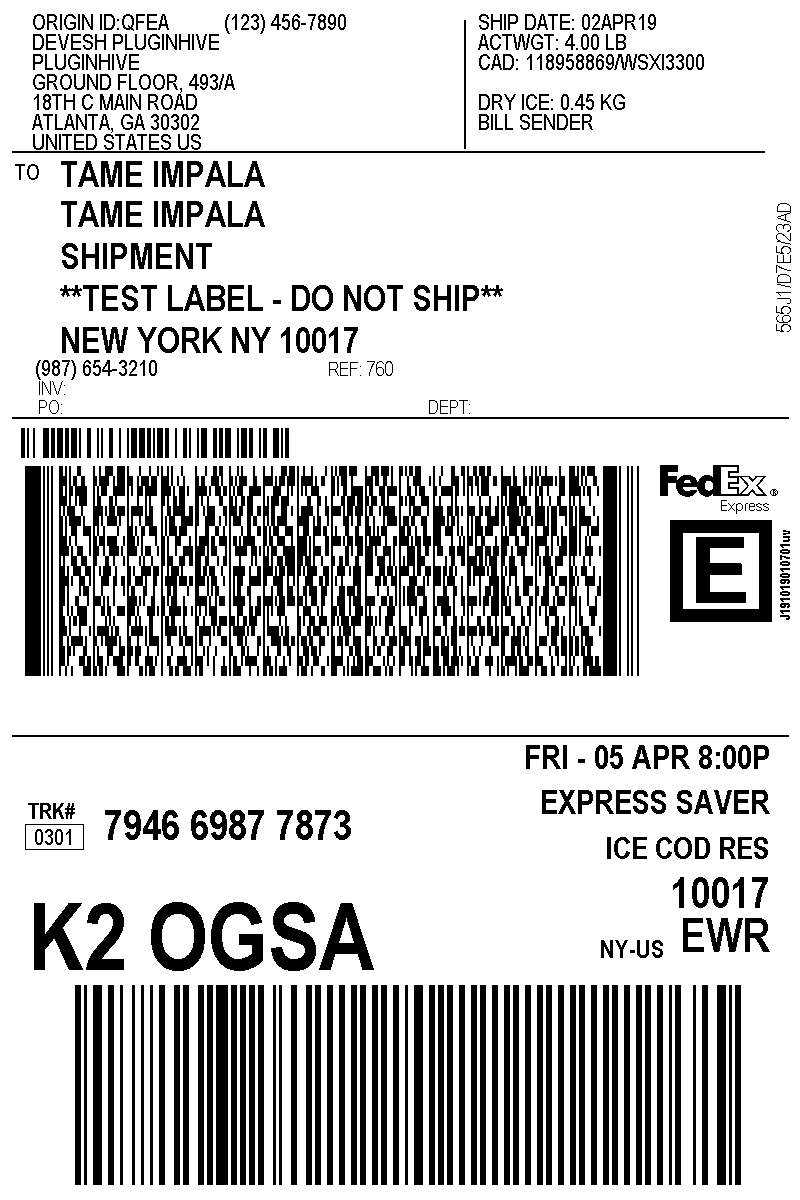 As you can see, the FedEx shipping label indicates the package contains Dry Ice. Apart from the above cool features, the App also integrates with FedEx Shipping Label APIs to print international shipping labels with a tracking barcode.
The order tracking number is returned from FedEx (fedex.com) while generating the label. Both you and your customers can track orders by clicking on View your order in the Order Shipped email.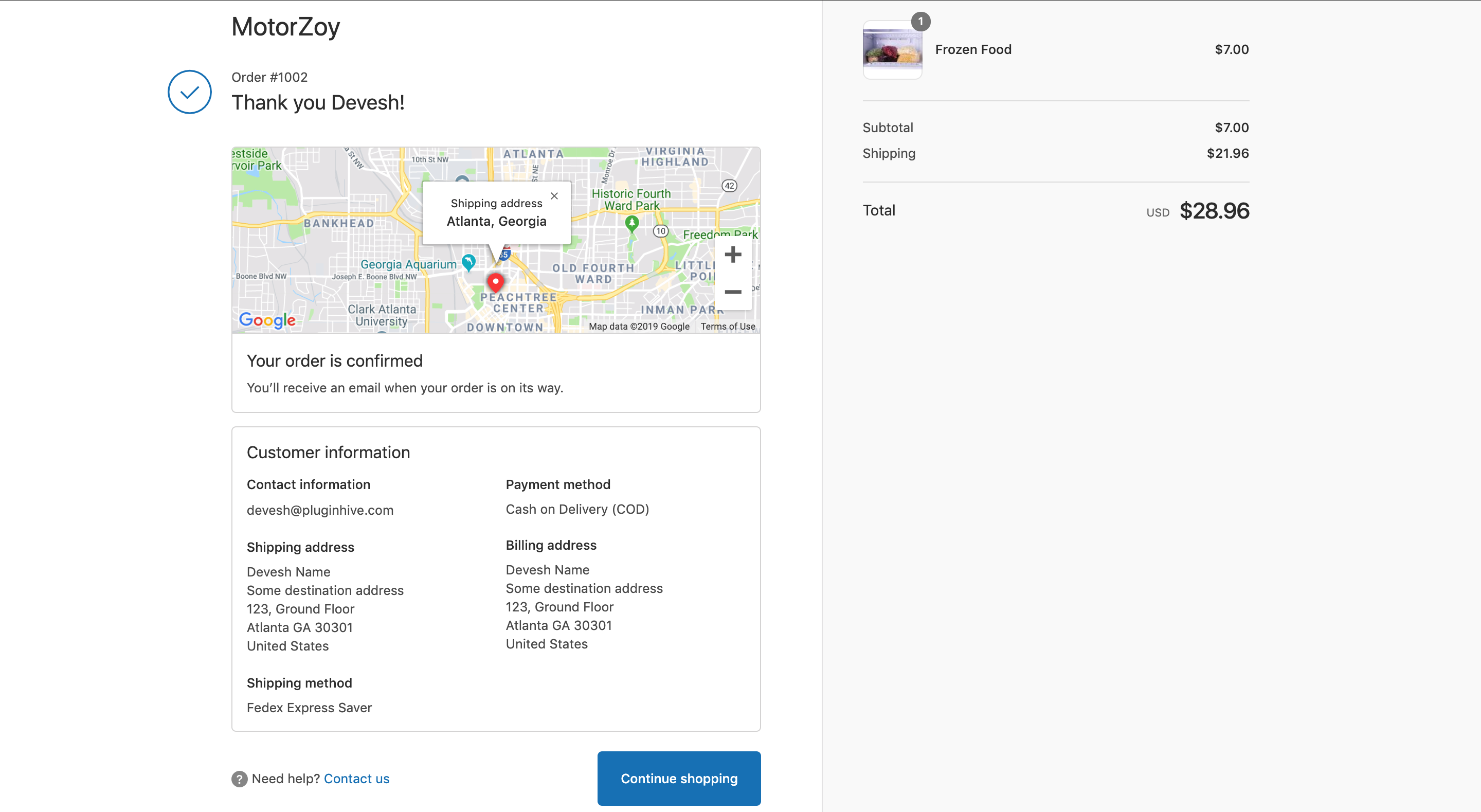 ---
Final thoughts…
Since there are a lot of restrictions surrounding the shipment of frozen items using dry ice, you can still manage to send them via FedEx. You just need to follow all guidelines and make sure that the package is secured. And when it comes to printing the shipping labels, both the WooCommerce Shipping Plugin for FedEx with Print Label and Shopify Ship, Rate and Track for FedEx seems to simplify the process. Meanwhile, store owners can also make use of other features such as showing estimated delivery dates to the customers, shipment tracking, and much more.
If you have any queries regarding this article then feel free to share your views in the comment section below. We would be more than happy to help you understand how this plugin can work together in fulfilling your shipping requirements.
Or in case you are wondering what more the WooCommerce FedEx Shipping plugin serve, I would request you to kindly visit the official product page here. If you need assistance regarding our plugins, you can also contact our support team. We are always happy to help.