WooCommerce FedEx Shipping – Pack Some Items Separately and the Rest Together in a Box
In this article, we will discuss how to pack some items separately and pack the remaining items in another box when using the WooCommerce FedEx Shipping Plugin with Print Label.
There are occasions where we get requirements from our customers who want to pack some items separately and the remaining ones in a box. So in one instant, both kinds of products shall be processed – the individual ones and the grouped ones. Here is the actual business case from one of our customers,
Alan: We have about 10 products that are large and require to pack one per box. We use the 23x19x17 box for these. We can set the dimensions to what it takes to get them into this box and only this box. We have about six products that require the 25x19x25 box. We can set these dimensions to what it takes to get these into this box and only one per box. We have about three that will require the 17x17x17 box with the same requirements. All other products can be boxed together.
WooCommerce FedEx Shipping Pre-packed Products
We decided to work on this interesting case with a simple enhancement in our FedEx plugin to solve this case. So the solution goes like this:
Introduce a pre-packed option to be at the product level that would allow the product to go pre-packed along with the normal box packing option(Click the link and search for Parcel Packing to know more) of the plugin.
Here is the option as described below :

So now, for example, two items are placed in the cart with the "Xmas Gift" marked as pre-packed. As a result, there will two boxes selected in this package. One will have the product "Large Pins" in it, the other one will contain "Xmas Gift" in it.

This simple solution resolved Alan's query in the most efficient manner possible.
Now, suppose Alan has a variable product and only some of his variations come pre-packed. The rest of them need to be packed in a single box.
How to go about this?
No Worries! You can mark each variation of the product as Pre-packed and then proceed with your shipping as shown below: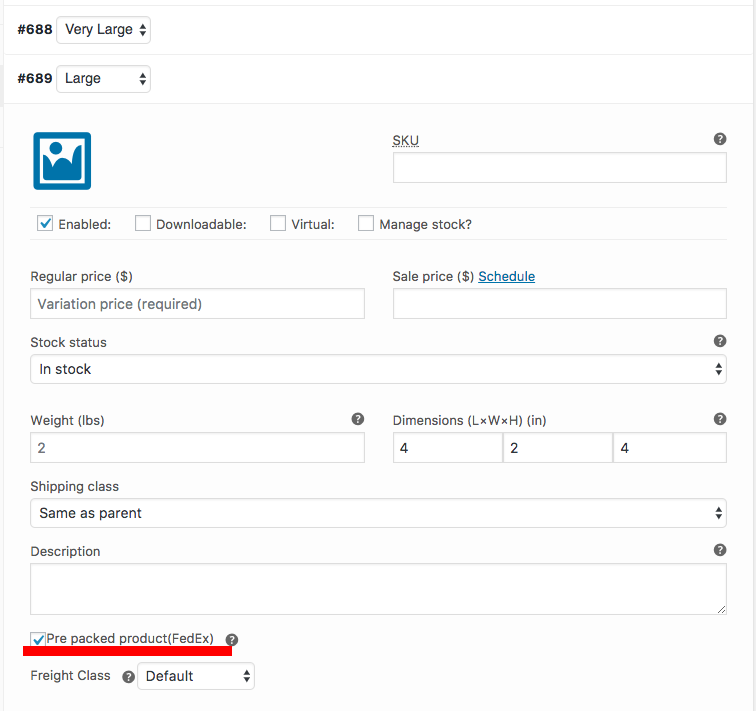 See how a simple enhancement made all the difference to Alan and he was able to fulfill his shipping needs efficiently. Check out similar WooCommerce shipping solutions from PluginHive.